Croissant + Hot Oil = Croiss-Ain't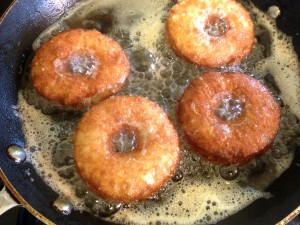 Okay, I admit, I've been reading the buzz about the trademarked Cronut. And it's not just Manhattan that's jumping on the bandwagon.  LA has plunged into the fray.
Ah, what better way to make THE quintessential French crescent roll into an American staple than to drop it into a pot of boiling oil?  Better yet, you could roll it in sugar…fill it with cream…glaze it with chocolate…or some variation on the donut theme.
I simply had to see what the buzz was about.
I give you my version—the  Croiss-ain't:  Croissant dough in traditional donut shape and cruller version.  My preference is the crull-ain't with a dusting of cinnamon sugar, no cream and a shape that's perfectly dunkable.
When I presented a plate of these deep fried, butter-laden delicacies to fellow party-goers a favorite soon emerged: The cream filled/chocolate glazed.
Eaters beware:  The Croiss-Ain't is high, make that very high in cholesterol but extremely delicious.
This recipe has been seared forever into my brain by the act of making at least one batch every day for 5 straight years when I had my bakery.  My muscle memory is still fully in tact, alas I don't have that wonderful cast iron baker's scale any more, nor the 60 quart mixer that could hold the original recipe.  So this is scaled down and will fit into a standard Kitchen Aid mixer.
There are a few elements that go into the croiss-ain'ts:  croissant dough, pastry cream, cinnamon sugar and the glaze of your choice I used chocolate.
Croissant Dough
4 cups AP flour (might need more or less see above note)
2 packages dry yeast
¼ cup sugar
1 Tablespoon of salt
10 oz.  butter
2-2 ½ cups of grape seed oil (the amount will depend on the size of the pan you use.)
 Pour ½ cup warm water in bowl of 5-quart mixer.  Sprinkle two packages of yeast over water.  Let dissolve.
When yeast is dissolved add flour, then sugar and salt.  Mix using hook attachment.
Add one cup warm water until dough comes together as a ball.  If the dough is sticking to the bottom of the bowl add more flour.  Mix until a smooth dough is created.  The dough should be soft but not sticky.
Place dough on floured work surface cover with plastic.  Let rest for 20 minutes.
While dough rests slice each stick of butter lengthwise into fourths.  Place the slices on a piece of plastic wrap in a 8×8 square with the edges overlapping just a bit.  Place another piece of wrap over the square and with a rolling pin flatten the butter a bit.  Place the butter in the refrigerator until dough has completed its resting period.
When dough has rested, flour work surface and roll dough into a cloverleaf shape that has an 8 inch area in the middle.  Place the butter pad in the middle.  Fold the bottom flat so that it completely covers the butter.  Fold the side flaps so they meet in the middle.  Then fold the top flap so it completely covers the dough.
Flip the dough over so the seam side is down and roll the dough until its about 18 inches long.  (this will give your arms a good work out).  This is called your first turn.  Traditionally one pushes a corresponding indent so that another baker can know how many turns the dough has had.  Wrap in plastic and let rest for at least an hour.
Turn again.  Wrap and let rest overnight.
While the dough rests make your pastry cream.
1 ½ cups of milk
½ cup sugar
4 yolks
¼ c flour
¼ teaspoon salt
1 teaspoon vanilla
4 tablespoons butter
3 ½ doughnut cutter
 Place yolks, sugar, flour and salt into the bowl of a mixer.  Attach whip and beat until eggs lighten in color and thicken.
Put milk in a non-reactive sauce pan.  Heat until just about to boil.
Add a little of the hot milk to the egg mixture and blend. (This tempers the mixture so that the eggs don't curdle.) Slowly add the egg mixture to the hot milk stirring as you do.
Cook on medium, stirring constantly until mixture thickens.
Stir in vanilla and butter until fully incorporated.  Place in bowl and cover so that the plastic is directly on the pastry cream.
Chocolate Glaze (this can be done while croiss-ain'ts are frying)
2 oz chocolate
2 oz butter.
Put chocolate and butter in a bowl and melt over a double boiler.  When melted stir to blend.
 Cinnamon Sugar
½ cup sugar
1 tablespoon cinnamon
Mix the ingredients together.
The next day…
Roll out the croissant dough so that it is approximately 20- 24 inches long and at least 12 inches wide.
Fold the dough lengthwise in thirds.  Roll just enough so that the folds adhere to each other.
Cut out doughnuts using  3 ½ in doughnut cutter.  If making crull-ain'ts cut one inch strips and twist.  Place cut pieces on a parchment lined baking sheet.  Cover with plastic and allow to rise for about an hour.  You will know they are ready if you poke the dough and the indent stays.
In a 10 inch heavy fry pan (cast iron is great) pour in the grape seed oil and heat until 350 degrees.
When oil reaches 350 add dough and fry for about 2 minutes on each side or until golden brown.  When done place on wire rack.
Let croiss-ain't cool a bit and roll in cinnamon sugar.
If filling them.  Use a serrated knife and slice in half spoon pastry cream on bottom layer.  Dip top in chocolate glaze.
Best if eaten within two or three hours.  If they last that long.