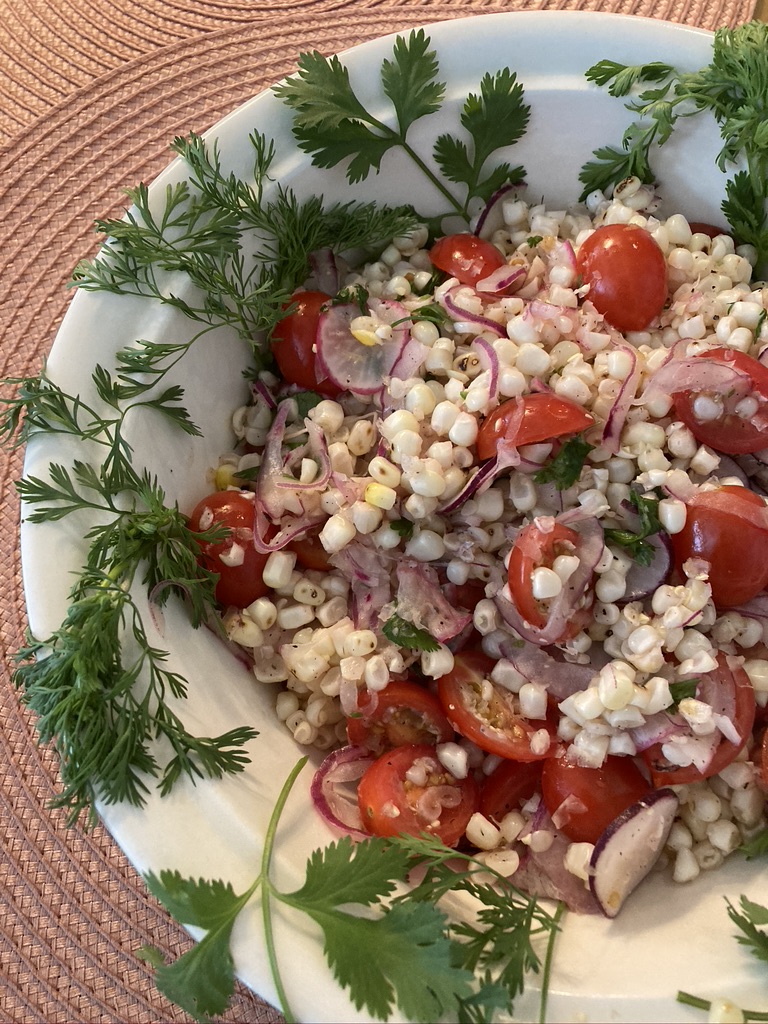 What do you bring to a social distance brunch? This summer corn salad! I wanted to bring something crisp, light, crunchy, and let's face it, easy. It turned out to be a huge hit! Not one kernel of corn was left in the bowl.
I wanted to incorporate the smokiness of grilled corn, yet my grill had been brought to the curb a year ago. So I shucked the corn and placed the ears on the top of the stove to singe them a bit. That did the trick!
Hope you enjoy it as much as my friends and I did.
Summer Corn Salad
Cuisine
American
Category
Food
Ingredients
3 ears sweet corn shucked
1 medium shallot sliced thin
5 radishes sliced thin
3 cups cherry tomatoes halved
1 clove of garlic
1 small jalapeno pepper chopped fine
zest of one lemon
1/4 cup of lemon juice
chopped cilantro
Instructions
Shuck corn. Place cleaned ears over an open flame on your stove top. Keep on the flame until some of the kernels get brown. Rotate until the ears are singed. It took about 5 minutes. Remove from stove top and cool on a plate.
Thinly slice shallot.
Thinly radishes. Use a mandolin if you have one.
Cut cherry tomatoes in half
Placed sliced items in a bowl.
Slice the kernels of the corn cobs into the bowl with the other ingredients.
Add lemon zest and stir.
Finely chop garlic clove.
Finely chop jalapeno pepper
In a separate bowl add finely chopped garlic, lemon juice and stir.
Add half of the chopped jalapeno. Stir.
Pour lemon juice mixture over the corm, etc. stir to incorporate and coat the ingredients.
Sprinkle cilantro and mix.
Taste. Add more jalapeno if desired.
Salt and pepper.
Enjoy!