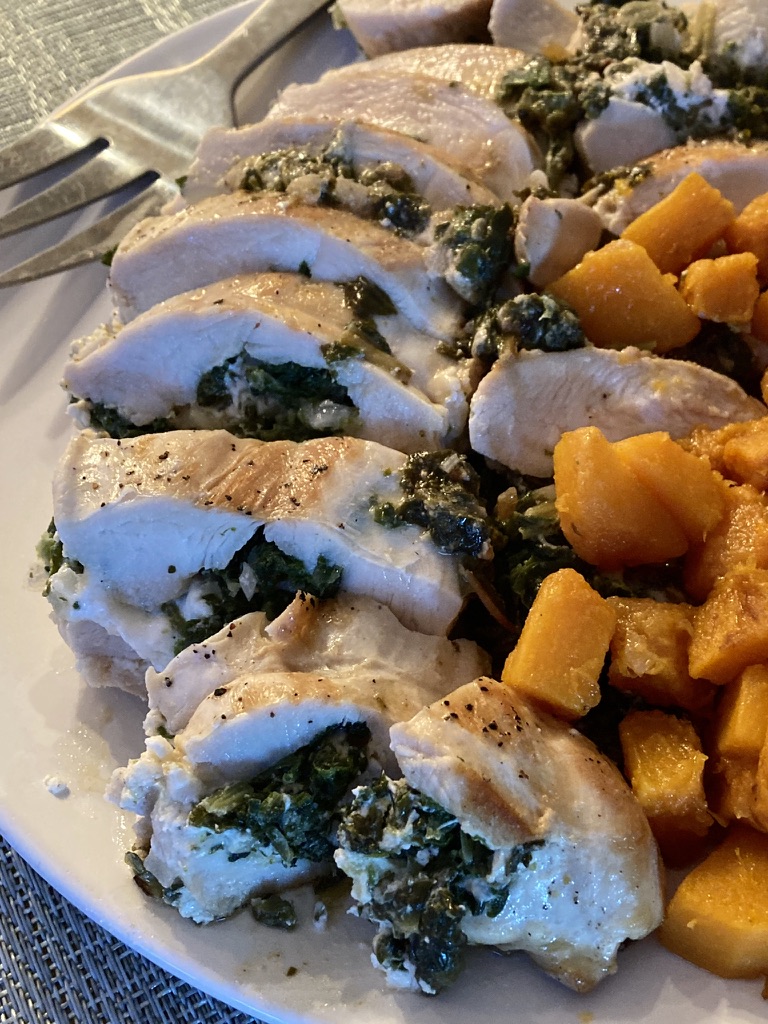 Ah, Cooking in the time of Corona–that's what my family and I did for quite a few weeks in the early months of the virus. The first recipe was my quick and easy one pot dish.
The second is this wonderful spinach stuffed chicken breast. My inspiration is a recipe I found on one of my favorite food sites The Kitchn. I'm a bit adverse to cream cheese, so I swapped it for chevre and sprinkled a bit of parmesan because, let's face it, everything is better with parm. This is very easy and absolutely delicious.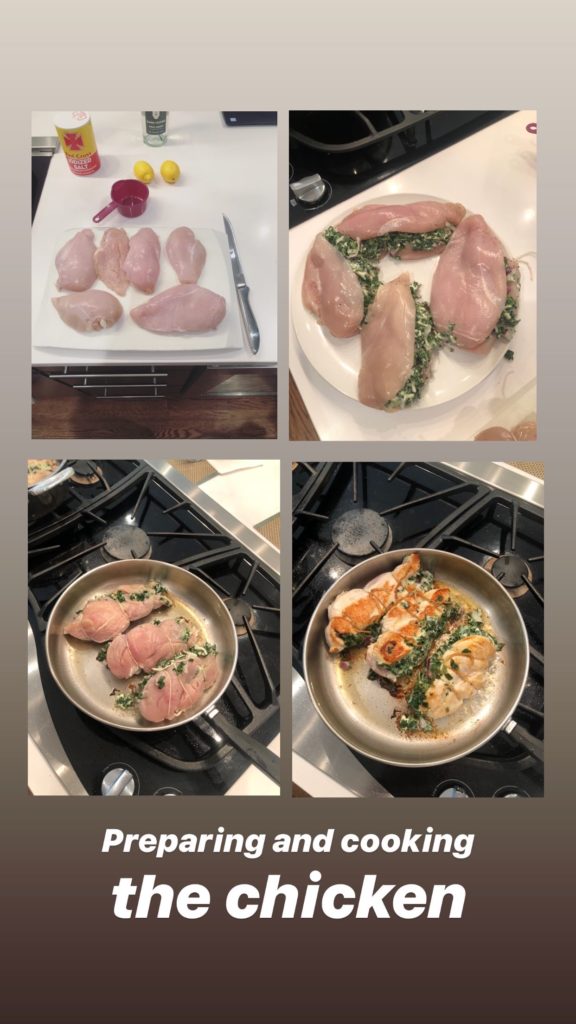 I've made this spinach stuffed chicken breast many, many times after our cooking with Jude ended.
Hope you enjoy as much as I did.
Spinach Stuffed Chicken Breasts
Cuisine
American
Category
Food
Serving Size
1 chicken breast
Ingredients
4 boneless chicken breasts
one bag frozen spinach defrosted
3 cloves garlic chopped
small red onion chopped or 2 large shallots chopped
sprinkle of grated parmesan cheese
zest of half a lemon
lemon juice
2 inch piece of chevre
salt and pepper
olive oil
1 cup white wine
4 TBS butter
String or toothpicks
Instructions
Place defrosted spinach in a sieve and drain as much liquid as you can. Place drained spinach in a medium bowl.
Add chopped garlic and onions
Sprinkle a layer of grated parmesan cheese over the top of the spinach mixture.
Add lemon zest.
Crumble the chevre into small pieces on top of the spinach.
Combine all the ingredients with a wooden spoon, or your hands until all ingredients are distributed evenly. Taste and adjust with salt and pepper
Trim any excess fat off the chicken breasts.
With a sharp knife, slice a pocket into the breast starting at the thickest and widest part of the breast and to the thinner side. Don't cut all the way through the breast. Open the pocket and salt
Add a handful of the spinach mixture. It's good to be generous with the stuffing.
Cover the spinach stuffing with the other half of the chicken breast.
If using string, cut eight 4 inch pieces of string and tie two pieces around each breast. If using toothpicks, 'stitch' the two halves together with toothpicks.
Heat a 12 inch saute pan on medium high, add a splash of olive oil. Then add the chicken breasts. Cook on medium high until golden about 3-4 minutes.
Turn over the chicken breasts, lower heat to medium and cook for another 4 minutes. Cover with a lid, lower heat and cook for another 2 minutes.
When finished cooking, remove chicken to a plate.
Add white wine to the pan and turn up to medium.
Add a splash of lemon juice and bring to boil. Cook for about 2 minutes to reduce.
Turn off heat and add butter. Swirl until melted.
Cut string or remove toothpicks and slice each breast into 5 or 6 pieces.
Pour sauce over the breasts.
Eat and enjoy!