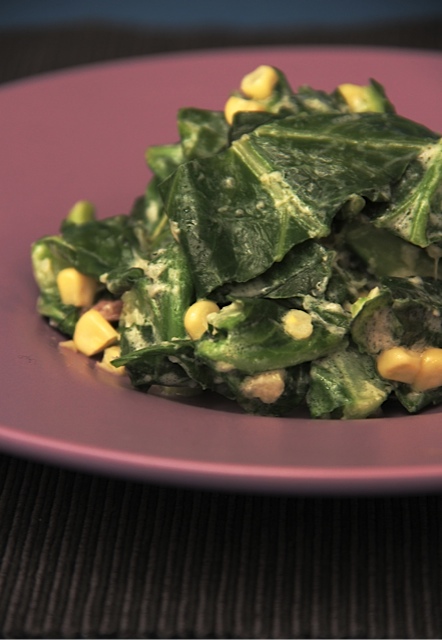 Collard Greens with Corn
It's winter, even here in Los Angeles and sometimes I want a dish that wraps its arms around me and gives me a huge hug. That's when I turn to collard greens. Yet my craving didn't stop at comfort, I wanted the heat of spice and a bit of crunch.
I also wanted to keep the bright green of fresh collard greens. I was determined to stop my collards from marching into the drab army green of so many other recipes.
I am happy to say, success! This is an extremely simple, spicy and green recipe. Zing from ginger, crunch from corn,  coconut milk provides a bit of sweetness and the collard greens retain their wonderful color while wrapped in this flavorful embrace.
Please let me know if you agree.
Spicy Collard Greens with Corn
Ingredients
1 (8 ounce) container of Cut 'N Clean Greens Collard Green
1 inch piece of ginger
3 cloves garlic
1 shallot
½ cup coconut milk
1 ear of corn kernels removed. Frozen corn can be used.
Olive oil
salt
pepper
Instructions
Clean and coarsely chop ginger, garlic, shallot and put into food processor. Pulse until a paste is made.
Heat a large saute pan add a splash of olive oil. Then add paste. Cook for about 3-5 minutes stirring. Lower heat if garlic begins to brown.
Add coconut milk and bring to boil
Add corn kernels and bring to boil
Add collard greens. Toss and cook for about 2 minutes until the leaves are coated with coconut milk.
Remove from heat, cover and let steam for about 5 minutes.
Season with salt and pepper.
https://www.mywellseasonedlife.com/spicy-collard-greens-with-corn/
Disclosure: Cut 'N Clean Greens sent the collard greens for recipe development.