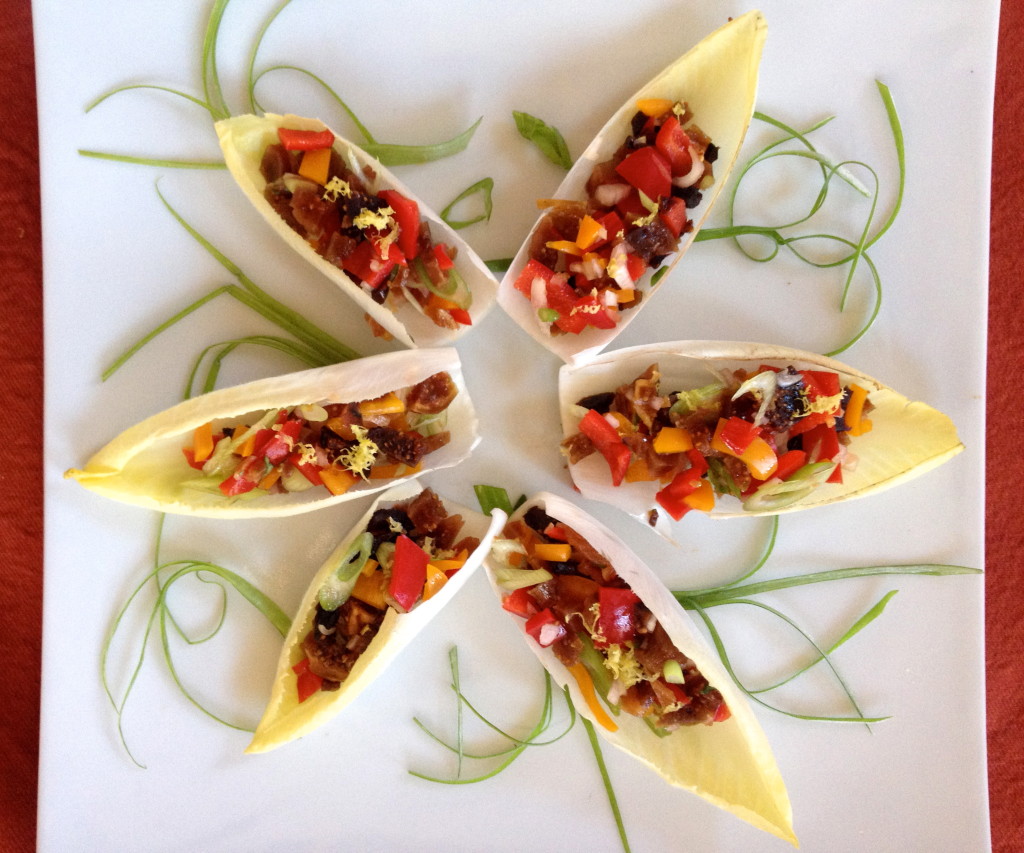 Pepper and Fig Salsa on Endive Spears
Let's face it, vegan and gluten free recipes are in demand. So when Erika and I were creating the menu for Figology Fest Part One we knew one had to be on the menu. This dried fig recipe is both, plus extremely flavorful.  I got my inspiration, once again from the California Fig site's salsa recipe.  I wanted to spice it up a bit and then serve on endive spears.  This dried fig, vegan appetizer was a real crowd pleaser.  It takes no time to make and looks beautiful on a plate.
Pepper and Fig Salsa on Endive Spears (adapted from California Fig site)
8 dried golden figs diced
8 black mission figs diced
1 red pepper diced
1 medium shallot diced
1 jalapeno pepper diced (stem and seeds removed)
1 green onion thinly sliced
6 basil leaves finely chopped
zest and juice of one large lemon
½ inch piece of fresh ginger
salt and pepper
3 bulbs of endive
 Place first seven ingredients in a bowl.
Scrape the ginger piece on a fine microplane zester over the bowl of ingredients.  The result will look like a puree.  Add to bowl.  Season with salt and pepper.
Cut the ends off the endive and separate the leaves.
Fill leaves with a tablespoon of filling.  Arrange on a platter.