What to do with a side of salmon left over from my birthday party? I already put some salmon into my spicy coconut sauce and I still have a lot left over. Why not make salmon cakes?
I'm not a fan of adding egg as a binder for salmon or crab cakes, it's a mouth feel and a taste thing. A while back, I'm talking the late 80s, while working at SaraBeth's Kitchen I was tasked with making crab cakes for an appetizer. The chef at the time, Stephen Picker asked what I was going to use as a binder. I replied, 'mayonnaise'. He cocked an eyebrow and said, 'make a test batch'. As I write this I really don't remember where I got the mayonnaise tip. Was it Jacob from the Golden Horn? Miss Rudy's Café? Some friend? Colleague? Baker's Dozen customer? Don't know? But I've been using mayo since the early 80s. Stephen liked the taste and crab cakes were on the menu for summer.
I decided to make two different flavors while using the same basic ingredients. That way I'd only have to chop once but mix twice. The first batch of salmon cakes is basically what I throw into my crab cakes with a bit of horseradish for a bit of spice. The second set of salmon cakes where spiced up with some Thai Chili garlic sauce and fresh ginger.
Hope you like one of these versions of salmon cakes. I like to serve them with red pepper sauce or Raifort sauce.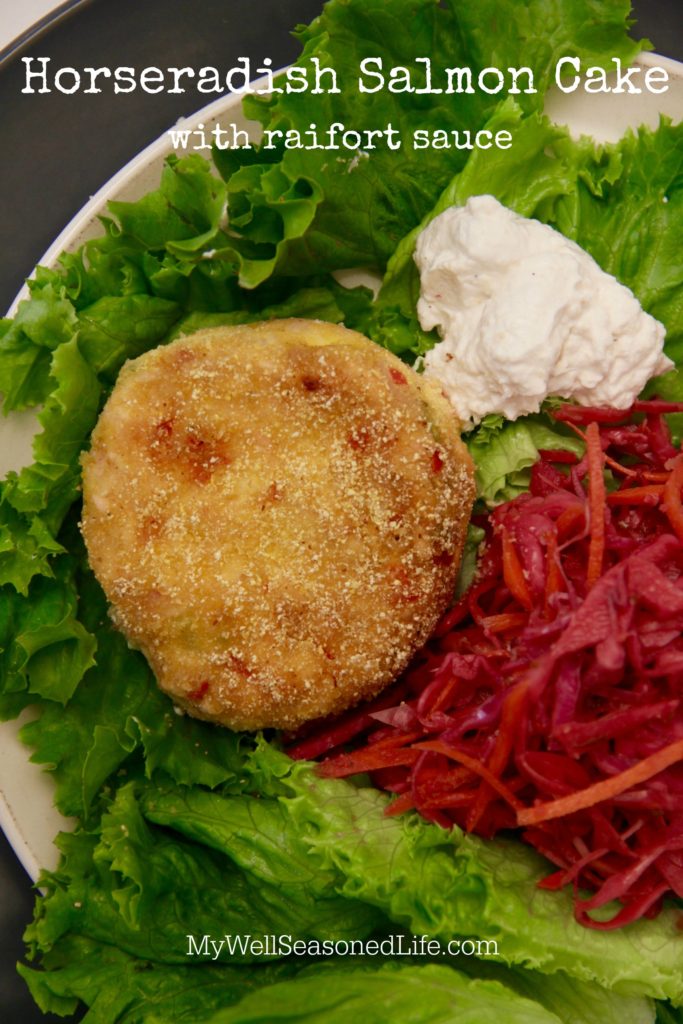 Ingredients
1 lbs. cooked salmon
1/3 cup celery finely chopped
1/4 cup shallots finely chopped
1/2 red pepper finely chopped
1 T lemon juice
zest of half a lemon
1/2 cup mayonnaise
2 T Thai garlic chili sauce
1/2 inch piece of fresh ginger finely chopped
3/4 cups of Panko
Corn meal
Instructions
Chop all vegetables and place in bowl.
Add lemon juice and zest, mayonnaise, garlic chili sauce, ginger. Toss to combine.
Crumble salmon into bowl keeping pieces large.
Sprinkle panko on top of salmon and toss to incorporate. Try to keep the salmon in large pieces. Taste and add salt and pepper if necessary.
Divide mixture into about 9 large balls and then into patties.
Sprinkle a mound of corn meal on work surface and place one patty on the corn meal so the bottom and sides are covered, flip, repeat. Then reshape the patty and place on tray. Continue until all patties are breaded with corn meal.
Heat saute pan, add oil and place patty in pan. Flip when browned and brown other side.
Serve.
To make horseradish salmon cakes follow above steps but eliminate Thai chili sauce and ginger and add 3 T of horseradish.
https://www.mywellseasonedlife.com/salmon-cakes/