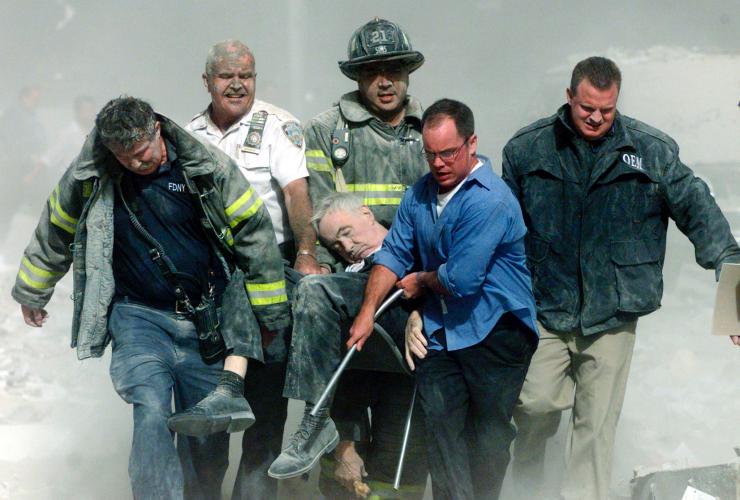 Yesterday, on the anniversary of the towers collapsing, I read through my journal and found this entry. I had just returned from three months in Australia working on a show. I was sleep deprived and exhausted.
On Monday night I had had my first good night's sleep only to be awoken by the phone. The World Trade Center was attacked. I had ignored NPR as it blared out a news item that said the Pentagon had been attacked. I thought in my somnolent haze that they were reviewing the next disaster movie with Arnold. But calls came from Gabe, or Sharon or Terri. I don't remember the order. I turned on the television and speed dialed my family. No answers.
I sat with my cup of tea as the towers burned. The shots of ambulances, fire trucks, people running away from the buildings, rescue workers towards. And then it happened. The first tower fell. It seemed like the floors of impact exploded, a mushroom plumb and then the building fell. It seemed so very organized, falling one floor on top of the other. My stomach clenched, the tears welled up in my eyes. I knew that death as I have never known it in my life had occurred. I called again to my family. All circuits busy. Billy worked midtown, but what if he had a conference, a meeting, he was the money man, he could be there. I thought of Ronnie, was he selling downtown today? What of Leslie, no her clients were mostly uptown. Thank god for rich uptown bitches. Shar said Steph was at home. I still needed to hear from my family. Redial.
And then the unthinkable happened the second tower fell. It wasn't bad enough to see the survivors of the first crash running, in what can only be shock fueled by the survival instinct, away from the site covered with ash, Now a larger plumb, more floors slamming on top of one another, more death, more horror. An empty pit exchanged places with my soul. I felt hollow. I don't think I could comprehend how many people would be lost. And then the images began to flood my brain–the thousands of commuters going up the long escalators from New Jersey. Parents kissing their children goodbye at school…those children now orphans. Husbands calling home saying they're okay, don't worry, suddenly disappear from the phone lines, vaporized in the crash. And then the tears flow, from my eyes and from everyone. Cops yelling Get back, I said get the fuck back. Fear, protection, anger in his voice. How did this happen? How could it happen on such a day?
But as always, the worst of times bring out the best of humankind. Lines began to form in hospitals for blood donations. Ordinary people ran to the disaster to help, they had to, they had to claim some control over an act that they could not comprehend, they had to do something. So zombie like they marched to help. Some lead, others followed but they all needed to do. For in the doing some sense would or could be made. It had to make sense.
Hospitals geared up for victims. The first wave hit. But the second never materialized. The emergency rooms workers realized the horror first. It took the rest of us days, relatives of the missing weeks to realize. Death. Death in the thousands. Death in this case was an equal opportunity employer. It did not discriminate between the CEO or the prep cook, the fire commissioner or the janitor. We had seen people jumping from the upper floors, one had killed a fireman. We couldn't comprehend what made them jump until the towers crumbled. They chose their death. They had to do something.
Brother lost brothers. Schleps became heroes, heroes became angels, everyone rose to heights they never thought possible. It was all they could do and they had to do something.
And those of us far away but with roots in the city. We felt our impotence. Money and blood could be donated, but we could do little else. Oh yes we could pray.
And then the stories began…he just fell right in front of me…he was on fire, I guided him to the ambulance…all I saw was shoes.
And the paper, it rained down on the city, blew up to Central Park. The paper survived, almost intact. It faired better than the people who filed it away for safekeeping. We now know there is no safekeeping.
And then we, because this horror has brought us close together, made us think in the inclusive, we began to grieve. This grief became public. No shame in crying, no need to be brave, stoic, no it was a time for communal tears, memorials on lamp posts, barricades, embraces given when needed, no questions asked. If one needed one received.