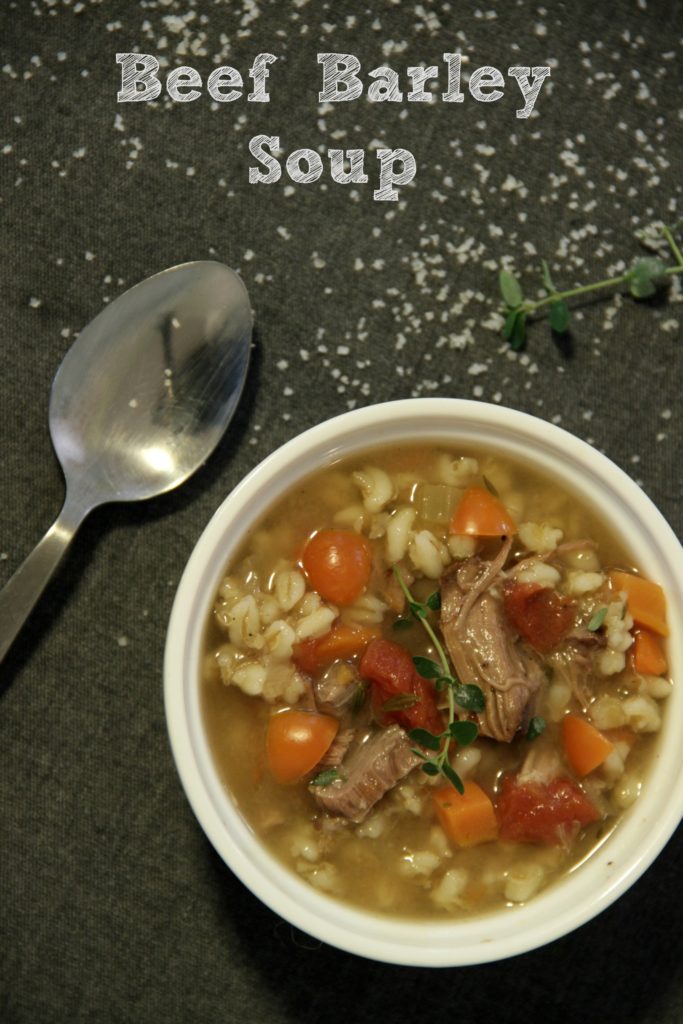 It's finally winter, or at least what passes for winter in Los Angeles–cool and cloudy with the hope of rain. And since it is a bit cooler I was inspired to make my mom's beef barley soup.
Beef barley is my favorite soup of all times. In fact, my mom's beef barley soup would be my last meal if I had to choose.
Memories are my companion when I make this soup…
Me as a kid running into my house exhausted from ice skating all day. Nose and cheeks rosy red as the layers of pants and jackets are peeled off. Then bounding to the table along with the rest of my siblings waiting for the soup to be placed in front of us. It was nearly impossible to wait for grace to be said, as soon as the words, 'holy ghost' were utter we all dived in. The first mouthful is the warmest embrace. The subsequent other spoonfuls replenish my worn out body.
Sometimes my mom separated out the beef from the soup and made sandwiches. Other times it was this recipe.
Enjoy.
Ingredients
3 lbs. beef shanks
2 T olive oil
8 cloves garlic medium chopped
2 stalks celery medium chopped
3 large onions chopped
3 carrots sliced
1 can whole tomatoes with juice
2 bay leaves
1 bunch thyme tied with string
2 cups barley
6 cup beef broth
6 cups water.
Instructions
In large sauce pan heat 1 T of olive oil. Add onions, celery, garlic and carrots and cook for 5 minutes until fragrant. Remove and place in bowl.
Heat same sauce pan and add the other T of olive oil. Salt and pepper shanks and add to pot. Brown shanks on each side for about 5 minutes. Remove shanks to same bowl as vegetables.
Add 1 cup of water and loosen the brown bits on the bottom of the pot with either a whisk or wooden spoon. Add beef and veggies then the other 5 cups of water. Bring to boil and simmer for 1 ½ hours.
Remove shanks from soup into a bowl.
Add vegetables, bay leaves and thyme, remaining beef broth and can of tomatoes. Bring to boil.
Add barley to soup, bring to a boil and simmer for about 30 – 45 minutes.
While barley cooks, clean beef shank meat by removing fat and pressing meat with fingers. It will be very tender. Return shank meat to soup and continue cooking until barley is cooked. This soup takes a fair amount of salt so add salt and pepper.
https://www.mywellseasonedlife.com/beef-barley-soup/