This recipe is basically a walk down memory lane for me. I worked in El Teddy's, NYC back in the day as line dominatrix and on alternating nights, pastry chef.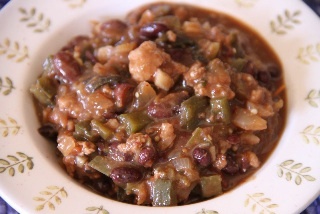 As I chopped the pasillos, chipotles in adobe and browned the ancho chilies, my mind was flooded with memories of Romero, the sous chef at El Teddy's; the kindest and most talented maker of sauces, a lover of chilis I have ever known. He introduced me to a new and wonderful world of capsicums for which I am forever indebted.
The good thing about this recipe is you can make the black beans or buy a can. You can chop and cook the tomatillos or buy a can and dump into the mixture. The meat component is up to you, add your favorite, or go wild and add lamb, bison whatever, or leave it out entirely.  This is a recipe to claim as your own.
This recipe was voted a Community Pick on my all time favorite food/recipe site Food52.  You can check it out there and take a look at my other recipes.  Hope you enjoy this as much as we did.
Makes A large bowl full
1/2 pound dried black beans or large can (19 oz) of prepared black beans
6 whole dried chili arbol pods stems and seeds removed. Wear gloves
2 tablespoons ground cumin
2 pounds tomatillos chopped in eighths
1 tablespoon strong instant coffee
2 pasillo peppers or peppers of your choice
2-4 chipotle chilies in adobo chopped finely or pureed in blender. This will depend on how hot and smoky you want your chili
4-8 pieces of jalapeno peppers in brine finely chopped. Once again it's up to you for the heat level
1 splash of olive oil
1 bottle of dark beer or any beer you might have in refrigerator1 pound Ground turkey or ground meat of your choice.  Or if you prefer not to have a meat component.  Proceed.
Black Bean Option One–Soak dried black beans over night. The next day cook beans with large chopped onion, 8 cloves of garlic, 1 tablespoon of instant coffee, 2 oz mexican chocolate, a stick of cinnamon, with water that is about an inch over the beans cook until done. Ruth Reichl says to add salt when the beans are cooked. I listen to Ruth. Option Two–buy a 19 oz can of black beans. Add dash of cinnamon, chocolate and extra coffee to chili.
Heat a medium fry pan till it's hot. Add the six chili arbol pods. Brown on each side. Please wear gloves while handling. Cool pods and grind.
In pan that you used for chilis, brown the ground turkey that has been seasoned with salt and pepper.
Heat a large stew pot. And splash of olive oil to coat bottom of pan. Once the oil starts to dance add onions and garlic. Cook on medium heat for 2-3 minutes.
Add cumin, ground chili arbol start with a teaspoon and add more if needed, chopped chipotles (start with two and taste). Stir. Cook for two minutes. Add beer. Bring to boil. Add instant coffee.
Add chopped tomatillos and cooked ground turkey. Bring to boil, then reduce heat. Add jalapenos. Start with a few and adjust as you go. Reduce heat and cook until tomatillos begin to soften. Taste for heat, balance of peppers, salt and pepper.
If using canned beans: rinse and drain black beans. Add to pot. If you chose to cook your own add about half the amount that you cooked. The other half can be frozen. Cook for another 15 minutes. Taste, adjust. Eat.