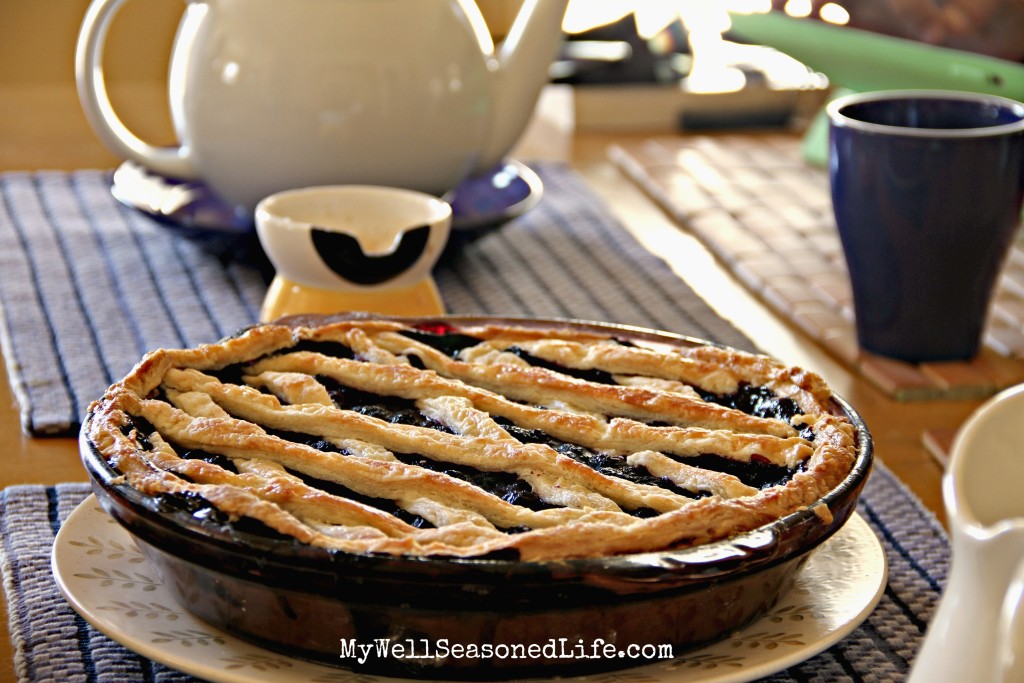 Blueberries are my absolutely, very best, favorite fruit in the world:  Alone, with cantaloupe, in morning yogurt, in a muffin, and in this case, in PIE.  And what makes blueberry pie better?  Ricotta cream of course.
This pie has two baking steps.  The first quick bake in to set the ricotta cheese cream.  
Then you pour the blueberries on top then bake until bubbly and golden brown.  I used only butter in this crust and as you can see on the lattice crust you can see the flakiness.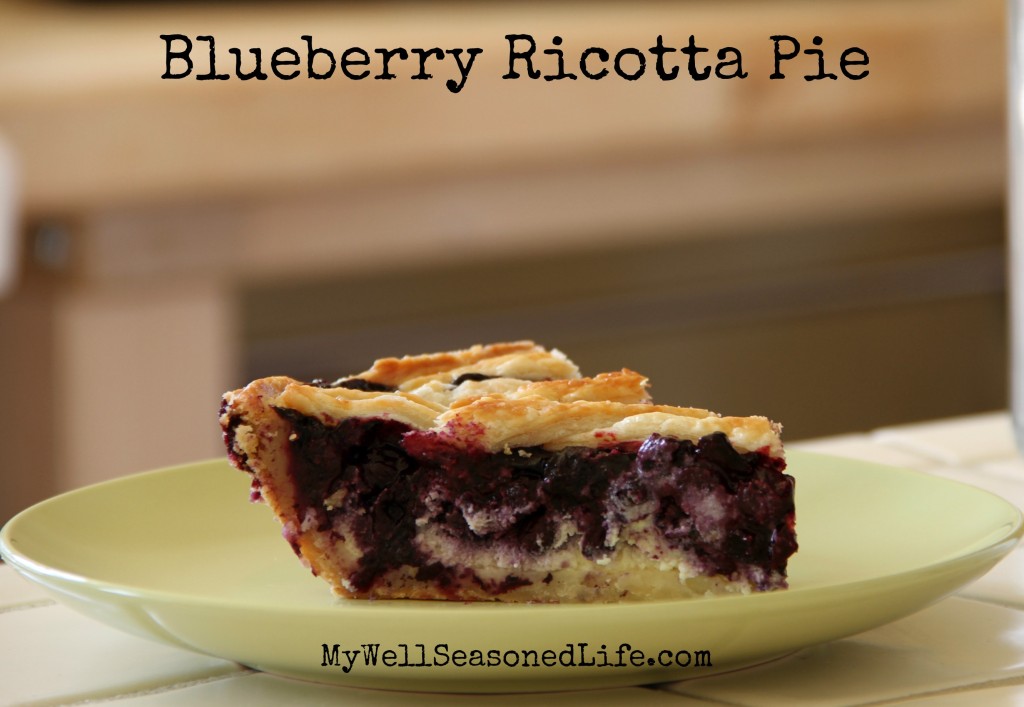 Pie Crust
2 cups flour

1/2 teaspoon salt
1 3/4 sticks unsalted butter cut into cubes and chilled
5 tablespoons ice cold water
1 tablespoon white vinegar
Place flour and salt in food processor and pulse a few times

Add chilled cubes butter.  Pulse until it looks like corn meal.
Combine water and vinegar.  Add liquid as you pulse the mixture.  Do not over mix.  The dough will start to come together but will not resemble tart dough.
Place dough on table surface and knead until it just holds together.  Refrigerate for 15 minutes or the time it takes you to make the ricotta filling.
Take half the dough and roll out in order to cover the bottom of a 9 inch pie dish.
Ricotta filling
1/2 container of ricotta cheese or 7 1/2 oz.  (Most recipes call for one pound of ricotta and all stores sell ricotta in 15 oz containers.  Errrr.) 

1 egg
1 yolk (save the white to brush the lattice crust for nice shine)
1/4 cup sugar
zest of lemon (you'll use the juice in blueberry filling)
Mix all ingredients in a bowl until smooth.

Pour into pie dish that is lined with pie dough.
Bake in 350 oven until cheese is just barely set.  12-15 minutes
Blueberry Pie Filling
2 bags frozen blueberries

1/3 cup sugar
1 tablespoon corn starch
juice of lemon
Place all ingredients in sauce pan.  

Cook over medium heat until thick, about 15 minutes (just about the time the ricotta should be done)
Chill a bit.  Shouldn't be piping hot you don't want to melt your beautiful pie dough.
Roll out the other half of the pie dough.   Cut 1/2 strips.
Pour blueberry filling over ricotta.
Place dough strips over the filling to make a lattice pattern. Use leftover dough to make a nice outer rim on the pie.
Bake for 40-50 minutes until bubbly and golden brown.