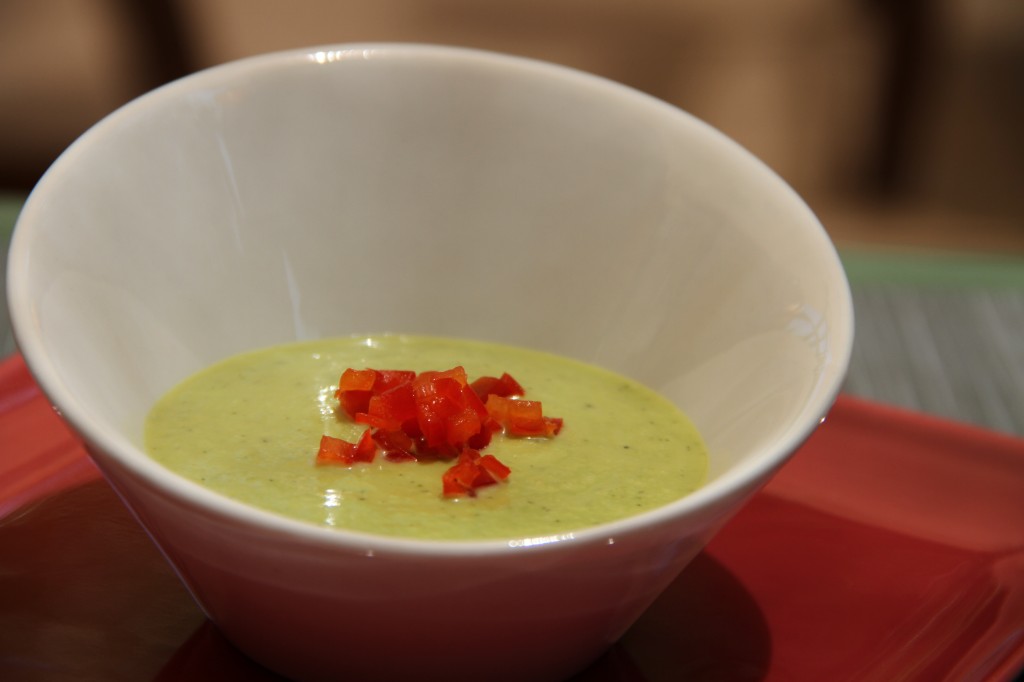 I think there was an all time favorite dish at the supper club last night and it was the Chilled Pea Soup.  To be honest Nahid and I worked really hard to find the right combo to make this soup work.
Our first try, well sucked.  The color was a greenish gray and it tasted like I should just heat it up and add ham and save it for a cold fall night.  Next we moved onto peas with leeks, buttermilk and a Yukon Gold potato to thicken it up.  Close, but it was missing something.  It didn't have the crisp freshness we were both looking for.
So we persevered .  And the last result was what we served.  Here it is in all its glory.
A few words of caution before you proceed.  The pea and cucumber mixture has a tendency to erupt in the blender, so please make sure the top is on and a protective towel on top of the lid.  Enjoy!
CHILLED PEA SOUP
1 TBS olive oil
2 cloves garlic chopped
1 medium red onion
1 bag of frozen peas thawed
3 Persian cucumbers chopped
3/4 cup sour cream
2 TBS dill
2TBS mint
1 cup heavy cream (amount will depend on the consistency that you desire)
1-2 cups vegetable or chicken stock (amount will depend on the consistency that you desire)
DIRECTIONS
Add olive oil to hot saute pan
Add onions and garlic.  Cook on medium high heat for 3 minutes or until transparent.
Add peas and cucumbers.  Cook 3-4 minutes.
Add sour cream, mint, dill and cook for another minute.
Add half of the pea mixture to a blender.  Use the stock to help with the blending process.
Once the first half is done add the remaining pea mixture and continue to puree adding a little cream and stock.  Keep tasting so you can decide to go with more cream or stock.
If you think it's pureed enough, let it go for another minute.
Strain puree through a medium strainer.
Adjust seasonings with salt and pepper.
Chill for at least four hours.  It's best when done over night.