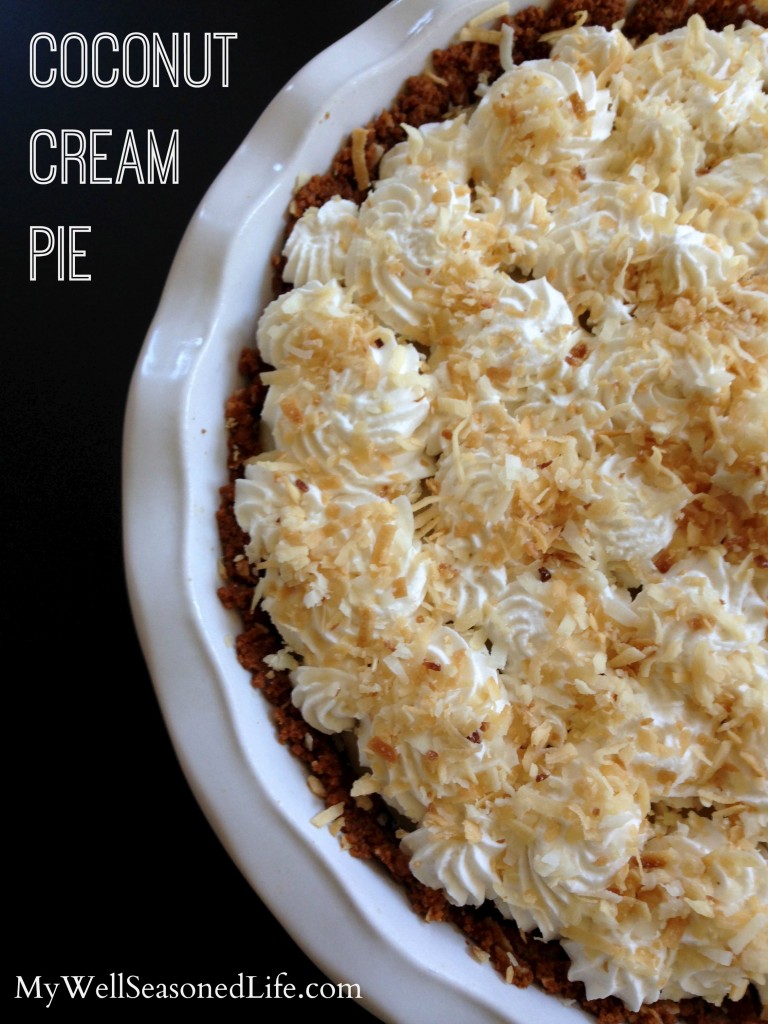 If you are looking for a show stopping, lip smacking dessert your search has ended. This coconut cream pie is to die for. Coconut milk adds to the rich taste of the cream filling while Trader Joe's Triple Ginger Snaps amps up the flavor of the crust. It's perfect for summer because the oven is only on for 10 minutes and the favor is to die for. In fact I brought this pie to a barbeque and it disappeared in a flash. Next time I'm going to bring two.
Ingredients
Crust

35 Trader Joe's Triple Ginger Snaps (if you don't have a TJ's regular ginger snaps are okay
5 T melted butter

Filling

1 ½ cups of coconut milk
1 ½ cups of whole milk
2 egg yolks
½ cup sugar
1/3 cup corn starch
1 t vanilla extract
1 ½ cup shredded coconut
1 T butter

Whipped Cream

½ cup heavy cream
2 T granulated sugar
1 t vanilla extract
¼ cup toasted coconut to sprinkle on top of whipped cream
Instructions
Crust

Melt butter
Add ginger snaps to the bowl of a food processor and pulse until fine.
Pour finely ground ginger snaps into a bowl and toss with melted butter until evenly spread
Press into pie pan to form an even crust. I used a deep ceramic pie dish
Bake at 350 for 10 minutes.
While crust bakes place ¼ cup of shredded coconut on a sheet pan and toast.
The crust and the coconut should be done at the same time.

Filling

Place ½ cup of milk into non-reactive sauce-pan. Whisk in corn starch until smooth. Add remaining milk, coconut milk, yolks, sugar and vanilla and whisk until combined and no lumps of corn starch.
Place pot on medium heat and simmer until thick, you must continue whisking the entire time the filling simmers.
Once the filling is thick like pudding stir in butter and coconut until fully incorporated.
By now the pie crust should be cool, add filling to the crust and distribute evenly.
Chill for at least two hours.
Once the pie is chilled, whip the heavy cream, sugar and vanilla until it has firm peeks. Add to a pastry bag with a star tip and pipe the whipped cream in your favorite design. Sprinkle with toasted coconut.
https://www.mywellseasonedlife.com/coconut-cream-pie/