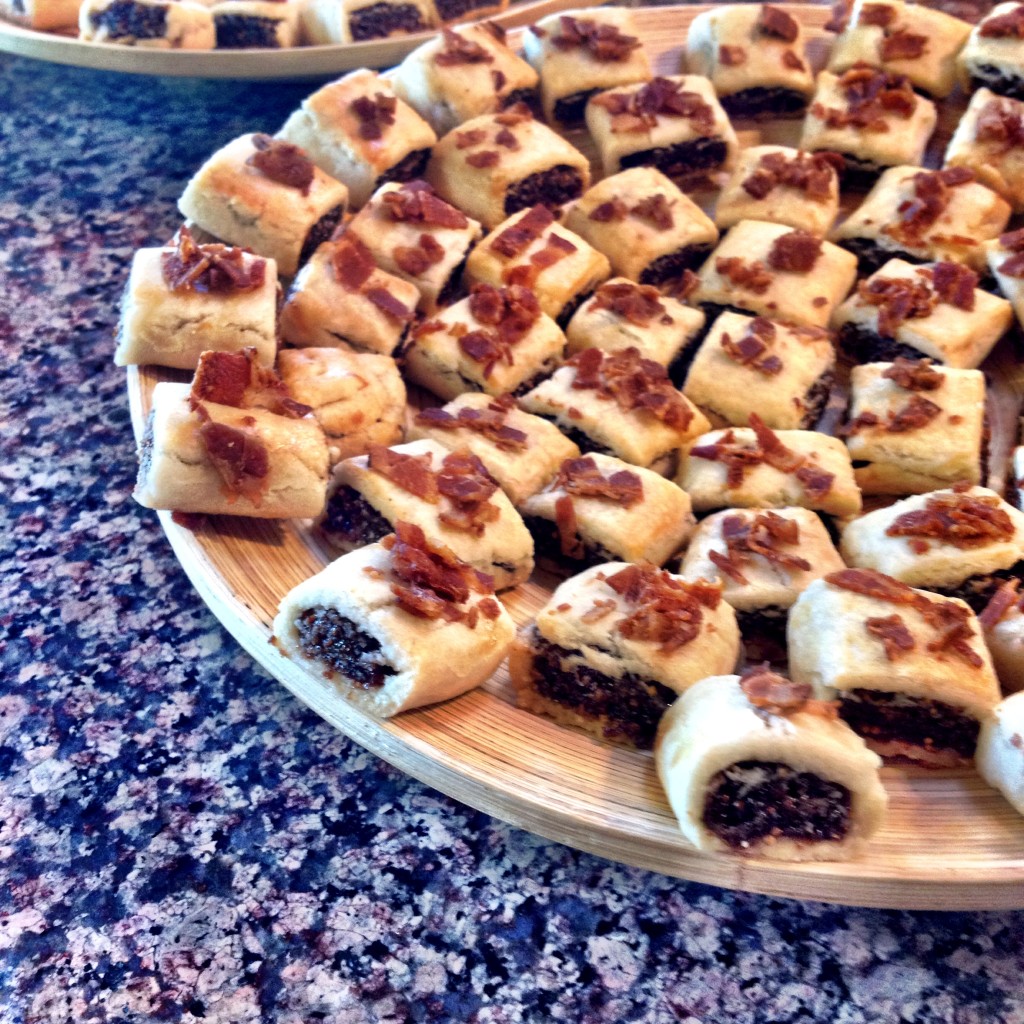 Figgy Piggy  Bars
One of the first discussions that Erika and I had for the menu of Figology Part One was dessert.  Erika of In Erika's Kitchen stated firmly, "I want a bacon fig newton."  I believe I rolled my eyes, pouted and muttered under my breath, "when will this bacon craze die?"  Then, being the grown up that I sometimes am, set out to research how to create Erika's idea which she dubbed "Figgy Piggy  Bars".
While pouring over a great many recipes the quaint saying, "Anything worth doing is worth OVER doing" haunted me.  Then a light bulb went off—use bacon fat in the cookie dough.  Now I was a happy camper.
In the case of Figgy Piggy bars resistance is futile. I ate at least 10 of these bacon fat laden morsels. Other people indulged at the fest as well.  Only going to prove that Erika knows her stuff.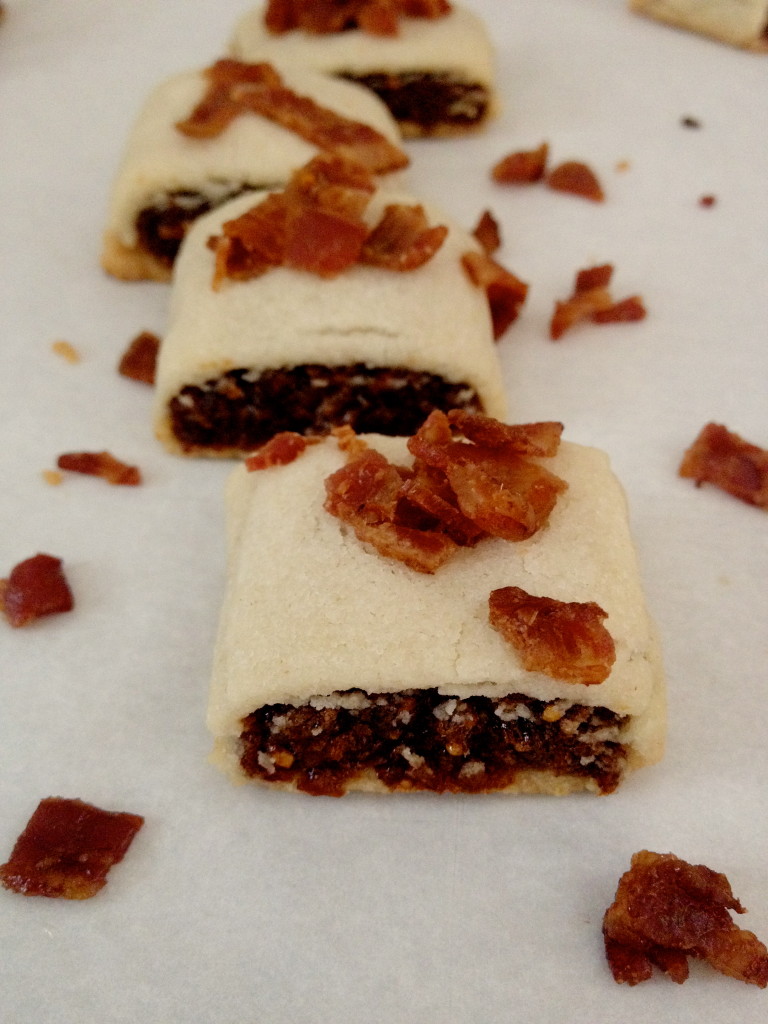 Figgy Piggy Bars
Ingredients
Filling

1 heaping cup of Golden dried figs
1 ½ cups water
1 cup apple juice
¼ cup sugar
Zest of 1 orange Cara Cara preferred

Cookie Dough

2 oz. bacon fat
2 oz. butter
½ cup sugar
1 egg white room temperature
1 tsp vanilla extract
1 ½ cup AP flour
½ pound of bacon cooked to crispy, cooled
Instructions
Bacon Fat

Bake bacon in the oven until crispy.
Strain bacon fat into a plastic container and freeze until solid.
Cool bacon strips and chop to small dice.

Dough

Whip bacon fat, butter and sugar in a bowl until incorporated.
Add egg white, zest, vanilla and beat until smooth
Add flour and mix until just incorporated. Don't over mix
Wrap in plastic wrap and chill for at least two hours or more

Filling

Cut off stems of figs and chop.
Put figs, apple juice, water, sugar in pan. Bring to boil. Reduce heat and cook for one and a half to two hours. The liquid should be thick, gooey but still syrupy. Let cool to room temperature.
Place figs in food processor, add orange zest and blend until a smooth paste is formed. The filling should be spreadable. If too thick add some apple juice.

Assembly

Roll chilled dough to approximately 12 inch by 16 inch (or 14 inch) rectangle. Roll as thin as possible.
Cut the long end of the dough into 4 inch strips.
Spread a quarter of the fig filling in the middle of each strip. There should be an inch of dough, an inch of filling and an inch of dough.
Fold ends of dough over the filling and pinch to seal.
Line a baking sheet with parchment paper. Place the strips of fig filled strips very gently on parchment. Cut to bit sized pieces.
Chop bacon strips and sprinkle on top of cookies.
Bake in a 350 oven for 10 to 15 minutes until golden brown.
https://www.mywellseasonedlife.com/figgy-piggy-bars/