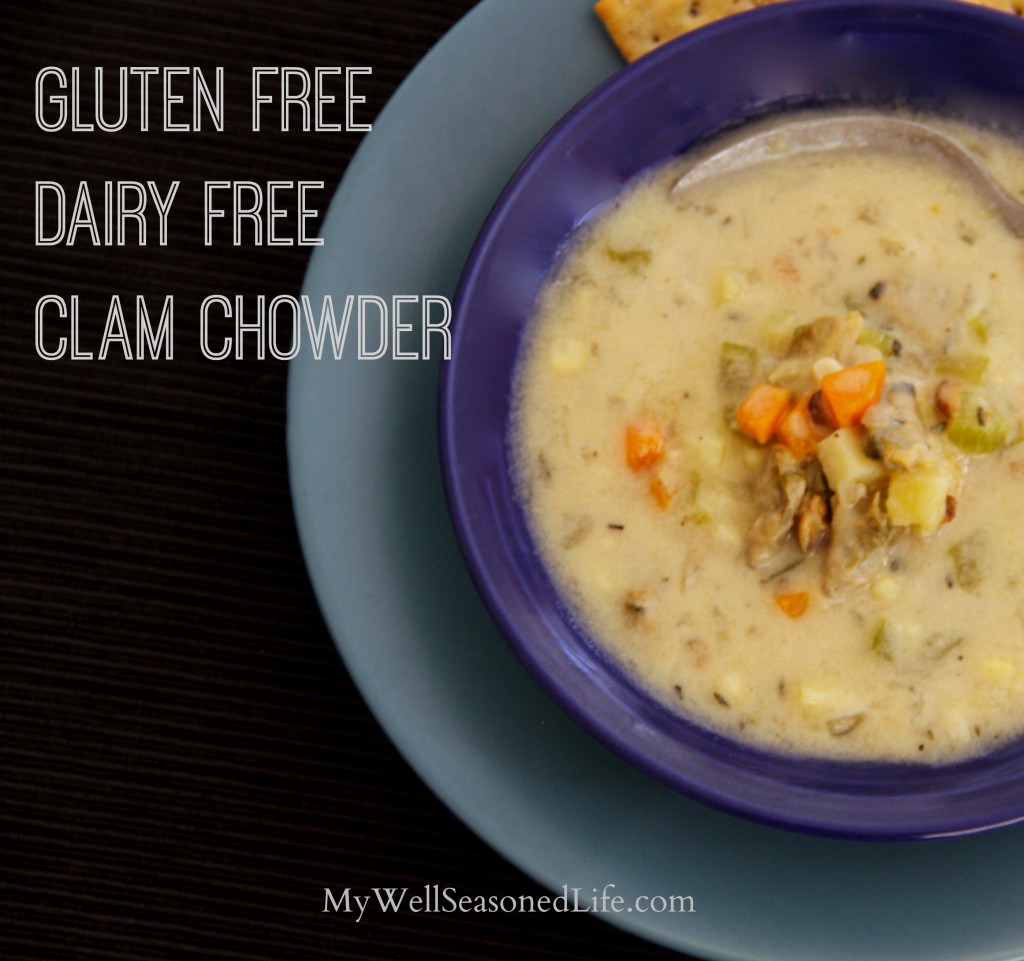 Clam chowder is the soup of choice when the weather starts to cool down. Alas, I live in Los Angeles and if I'm to enjoy a bowl of clam chowder with friends it will have to meet the strict California standards of being gluten free, dairy free clam chowder.
The biggest challenge of creating gluten free, dairy free clam chowder is recreating the creamy richness the soup embodies. I found that coconut milk was a wonderful substitute for cream. My happiest discovery for thickening up the soup was arrowroot. The trick to this soup is to simmer it and not vigorously boil it. Once you make this delicious new version of clam chowder, you won't miss the gluten or the dairy.
Gluten Free Dairy Free Clam Chowder
Ingredients
¼ lbs. bacon medium chopped
4 cloves garlic chopped
2 stalks celery finely chopped
3 medium shallots chopped
1 ear of corn kernels removed
2 medium sized carrots peeled and cubed
¼ t red pepper flakes
2 t dried thyme
16 oz. bottled clam juice
3 cups vegetable broth
2 T arrowroot powder
Juice of one lemon
13.5 oz. can coconut milk
Instructions
Chop bacon, garlic, celery and shallots. Heat medium sized sauce pot. When hot add bacon and cook until browned. Add garlic, celery,carrots, corn, shallots, thyme and red pepper flakes and cook, stirring until wilted about 5 minutes.
Add clam juice and vegetable broth, stir and bring to boil, reduce and simmer for 5 minutes.
Strain clams and add to broth.
Add arrowroot to small bowl. Take one cup of hot broth out with a measuring cup. Slowly add hot broth to arrowroot whisking until a smooth paste is created. Bring broth to a light boil. Add thickened mixture to soup stirring until smooth and soup begins to boil and thicken.
Add coconut milk to broth, stir and reduce heat to simmer. Do not bring to full boil as the coconut milk may separate. Simmer until cooked about 5-7 minutes. Add enough lemon juice to tame the taste of the coconut milk. Add salt and pepper as needed.
https://www.mywellseasonedlife.com/gluten-free-dairy-free-clam-chowder/