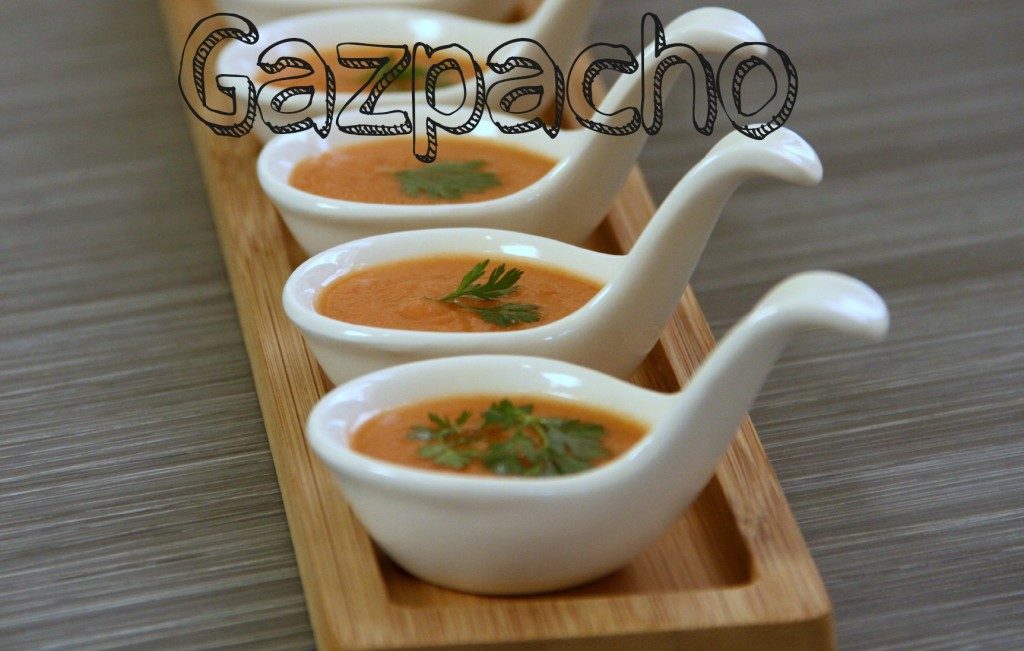 If you are searching for the perfect dish to make in the heat of the summer, gazpacho is the answer. This gazpacho is gluten free because I left out the bread that many recipes add. And let's face it, everyone is looking for gluten free recipes, so why not gluten free gazpacho?
All you have to do is drop some tomatoes in boiling water, add the ingredients in a blender, puree, chill and eat. Don't believe me? Check out this video.
If gazpacho isn't your thing you can always try my chilled pea soup or my chilled cucumber soup.
Ingredients
2 lbs tomatoes (about 5 large tomatoes)
3 Persian cucumbers peeled
1 jalapeno or Serrano pepper without seeds for mild, with for a bit more zing
2 cloves of garlic
1/2 red onion peeled and coarsely chopped
2-4 tablespoons of red wine vinegar depending on the sweetness of the tomatoes
1/4-1/3 cup of olive oil
1/4 cup of cilantro
Instructions
Fill a large pot with water and bring to a boil.
Fill bowl large enough to hold the tomatoes with ice water
Place tomatoes in boiling water for 30 –45 seconds
Plunge tomatoes into ice bath and cool.
Coarsely chop the cucumbers, garlic, your choice of pepper, onions
When tomatoes are cool. Slide off tomato skins, core and coarsely chop. Keep the cool water in case you need to thin out the soup.
Add half of all ingredients to a blender and puree until smooth. If the mixture is too thick add some of the ice bath water.
Pour into clean bowl.
Add vinegar, olive oil, salt and pepper according to your taste. Chill.
Before you serve check the seasonings and texture. Add more water if needed.
https://www.mywellseasonedlife.com/gluten-free-gazpacho/