Purple Peruvian Potato Sauce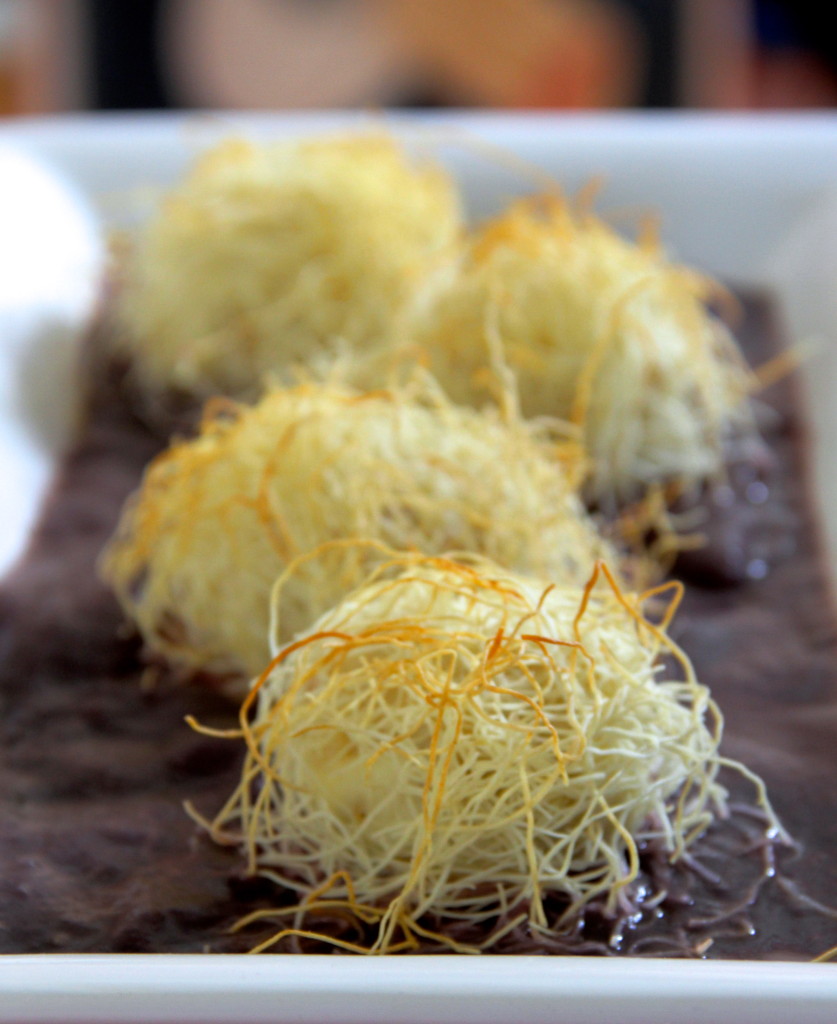 When Erika Kerekes of In Erika's Kitchen asked me to participate in PotatoPalooza 2014 I was over the moon.  This was an opportunity to work hand in hand with the mistress of TrufflePalooza and create recipes with many varieties of Idaho potatoes.  After a bit of brainstorming I suggested something with Idaho purple Peruvian potatoes.
In fact, I thought what could be prettier than a sauce made with Purple Peruvian Potatoes?  The only thing I could think to add was one of my lovely chicken croquettes on top of it.
My inspiration for this sauce comes from chef Larry Baldwin of Cata restaurant in NYC.  I always say if you're going to steal copy, do it from the best.
Idaho Purple Peruvian Potato Sauce
6 Idaho purple Peruvian potatoes
2 cloves garlic finely chopped
1 medium red onion finely chopped
½ stick butter
¼ to ½ cup milk
smoked paprika for garnish
Wash potatoes, dry and place on baking sheet. Toss with a little olive oil. Bake at 350 for 20 minutes or until a knife can easily pierce the potatoes.
While potatoes cool so that you can touch them, place 1 teaspoon of butter in small sauté pan, heat on low heat.  Add shallots and butter. Cook until soft 5 minutes.  It's very important that the garlic and shallots don't brown.
Peel potatoes.  Pass through a ricer or fine mesh strainer into a bowl. Pass garlic shallot mixture through ricer or mesh.  Mix together.  Slowly add milk until a smooth and thin "mashed potato" is formed.   If mixture get too cool, place in small sauce pan and heat.  Adjust seasoning with salt and pepper. Spread sauce on serving dish, sprinkle paprika and place croquettes on top.
Note:  If you want an even darker, ricer looking sauce replace the milk with a stock made of a large red onion (skin and all) 3 cloves of garlic.  Boil on low heat until onions and garlic are soft.  Throw away exterior onion skins.  Strain stock into bowl.  Press onion and garlic through fine strainer add to stock.
Click here for the chicken croquette recipe.