Mango and Cherry Clafoutis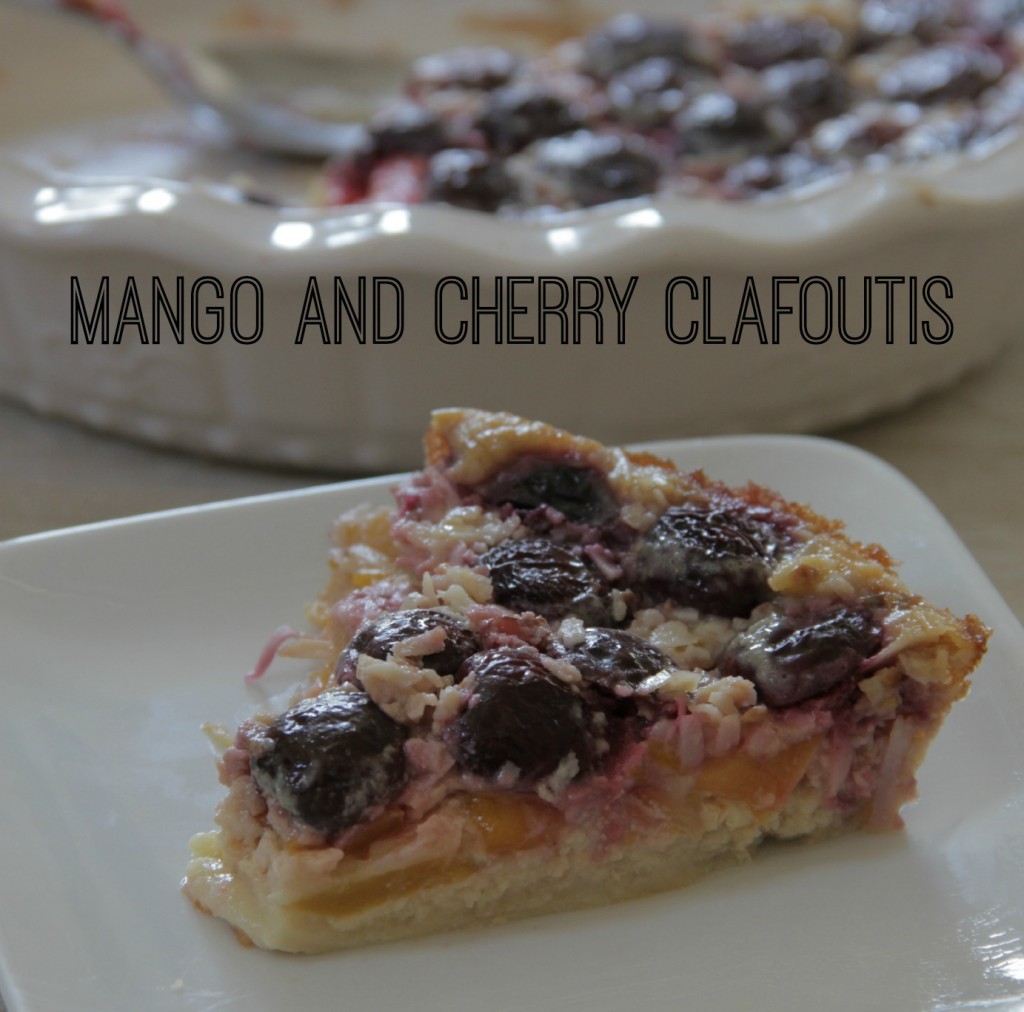 I was in a dilemma, What birthday cake to make when that person hates cakes? I had just picked up a mango at the store that was perfectly ripened and some really dark, sweet cherries just looking for a purpose.  What to do? Whipped cream was off the check list as well.  Hmmmm?
Thankfully, I have an abundance of incredible food bloggers to guide me.  Cynthia Woodman of What a Girl Eats had just posted a recipe for clafoutis that made me drool.  I ogled Valentina of Cooking on the Weekends'  flaugarde pictures and recipe. Inspiration at last!  My game plan was beginning to take shape.  A group message to Valentina, Cathy of She Paused for Thought and Christina of Christina's Cucina asking if a mango and cherry clafoutis sounded weird.  The overwhelming response was "go for it!"!
Got to say it was a rousing success!!!  I used Cynthia's recipe as a road map and this is what I came up with.
1¼ cup whole milk
1/3  cup sugar
3 large eggs
2 teaspoons pure vanilla extract
⅛ teaspoon kosher salt
½ cup all-purpose unbleached flour
½ cup toasted coconut
1/2 of a regular mango, pitted, pealed and sliced length wise
16 or so dark sweet cherries, halved and pitted (your fingers are going to get stained but the reward is worth it)
1 Ataulfo mango, pitted, pealed and sliced length wise
Place first six ingredients in a blender and puree until smooth less than a minute.
Heat oven to 350
Grease a nine inch pie pan or baking dish with butter or oil.
Pour about a 1/2 inch layer into dish and bake for about 10 minutes.
Slice and pit fruits.
Remove dish from oven
Arrange fruit on top of layer in pan
Sprinkle with toasted coconut.
Pour remaining batter into dish and return to oven.
Bake 40-50 minutes.  It's done when an toothpick inserted in the middle comes out clean.