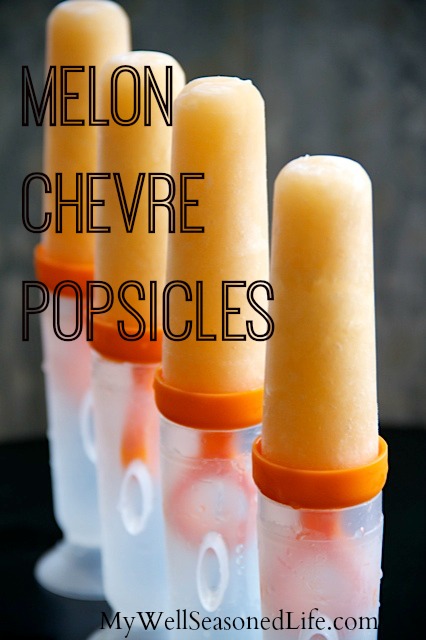 Summer has arrived with a vengeance. It's hot in LA, very hot. Laying on the couch my thoughts drift back to childhood. The sounds of Mr. Softee , Good Humor, Little Jimmy's Italian Ices bring a smile to my face. My mouth begins to water at the thought of a creamsicle. Ah, the taste of summer.
How do I update that taste of summer for my more sophisticated adult palate? Melon and goat cheese are a winning combo on a cheese platter. Why not a melon chevre popsicle?
This recipe contains three ingredients and has become the new taste of summer for me. I've eaten for an appetizer with a glass of wine, or dessert with glass of wine.
Melon and Chevre Popsicles
Ingredients
4-6 cups cubed cantaloupe or any melon approximately 2 cups of pureed melon
3 oz. chevre
1 oz. cream cheese
6 round ice pop molds that hold approximately 1/3 of a cup of liquid
Instructions
Cut and cube melon.
Place in blender and puree
Place chevre and cream cheese in a bowl and mush together until combined
Squeeze about 2 tablespoons of the cheese mixture on popsicle sticks
Pour pureed melon in popsicle forms. Place sticks in forms
Freeze for about 2-3 hours.
https://www.mywellseasonedlife.com/melon-and-chevre-popsicles/