Many people have food rituals that make Thanksgiving special. I'm no different. Thanksgiving wouldn't be Thanksgiving without Parmesan battered fried cauliflower, stuffed mini pumpkins or corn and pomegranate sauté. What I don't think other people share with me is my Thanksgiving ritual–doing the dishes.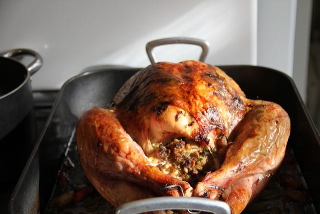 You heard me right, I love doing dishes after the Thanksgiving meal. Alone. By myself. The entire lot—glasses all the way to the pots and pans. When friends ask if they can help I politely decline their generous offer. Washing dishes is as important to me as the mini pumpkins.
Doing dishes is the time that I honor my great grandmother—Nana. Nana imparted a great deal of useful information from the kitchen of her third floor walk up in Paterson, New Jersey. Nan bestowed upon me my love of tea. At the age of 6 or 7 she taught me the ritual of the perfect cup of tea. How to long to steep, the right amount of milk and sugar, and if the tea was too hot she'd pour a little in my saucer so it would cool to the perfect drinking temperature. Then I'd raise the plate to my mouth and savor the sweet milky nectar, feeling every bit a grownup.
Now before you start conjuring up an idyllic image of Nana, you need little background information. Nana was a large person and personality. I affectionately called her stature 4 by 4, a somewhat polite way of saying fat, okay obese-ish.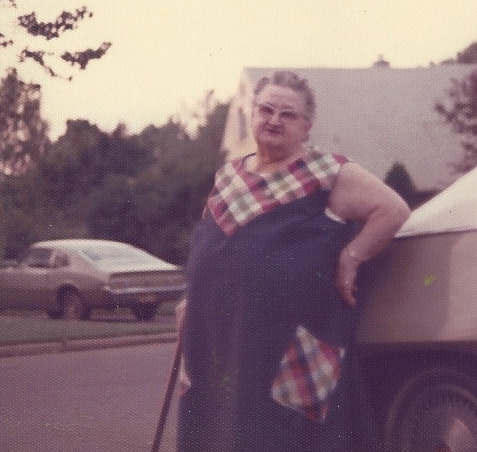 Nana was tough, not a diplomat and always had a rather smart ass saying for every situation. If we kids were misbehaving she'd shout out, "If you don't settle down I'll fix your wagon and put square wheels on it." "Stay single and raise your children that way," was another Nan-ism. I never understood this saying until I was much older and realized that's what she had done with her two children, a son who was perfection and a daughter who could do no right.
Nan definitely had her way of doing everything. Dishes were no exception. So after the last of my Thanksgiving guests depart, I head to the kitchen with a smile on my face. The glasses are emptied of any leftover beverage then lined up on the counter top. Then I gather all the silverware and into the sink it goes. The sink slowly fills with medium hot water and soap…but only half way. Then the glasses go in.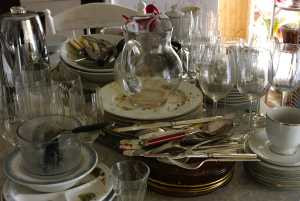 When I asked Nan why she did this her terse response, "the silverware is the dirtiest so it has to soak, the glasses need the cleanest water and you don't want to waste water." I begin on the glasses: wash and rinse with a slow stream of water. When the dish rack is full and no glasses remain to be washed the plates take a soak while I dry and put away the glasses.
This is the point where the memories of Nan come careening into my brain: Her pulley clothesline that my brother and I loved to play with. We'd attach various objects and send them gliding to the far pole as fast as we could. Nan's cousin Kitty lived nearby and read tealeaves and tarot cards while sipping tea in her kitchen. I thought Kitty was married to a little person and this was one of the coolest things I'd ever seen, only to find out he was another tenant in the building. (One of many bubbles burst.) Nan's unbridled laughter that made her whole body shake, and there was a lot to shake, with tears in her eyes. The way she sopped up gravy with a slice of bread. How Nan, upon her son's death told her daughter, my favorite Grandma Anne, that the wrong child had died. Nan, as unkind as she was funny.
As the plates get their wash, Nan's funeral comes into full view. She died at 98, a good run. As our family and one family friend sat around her casket we all agreed that Nan was giving god hell for taking her before she hit one hundred years old one of her goals in life. The room was filled with Nan-isms. Dick a friend of my uncle said, "your grandmother could send you to hell and you'd enjoy the ride."
And by the time the silverware is washed and dried, the pots drying in the rack I smile knowing that Nan would be proud, but also tell me that I was scouring the sink wrong.

Happy Thanksgiving