Before I set out for Copenhagen I looked for one restaurant that I really wanted to try. I scoured a few different sites and narrowed it down to Amass and Ol & Brod. Since Ol & Brod is located near the meatpacking district I decided to go for lunch.
I walked from Mette and Adam's Osterbro apartment south along the lakes lined with cafes and small backyards. Regal swans float in the lake.
The stroll takes me to Kampmannsgad a bridge that houses my favorite tree, whose barren branches begin their springtime transition to green each time I pass.

Directly behind Kampmannsgad the angled modern roof of the planetarium pulls me in.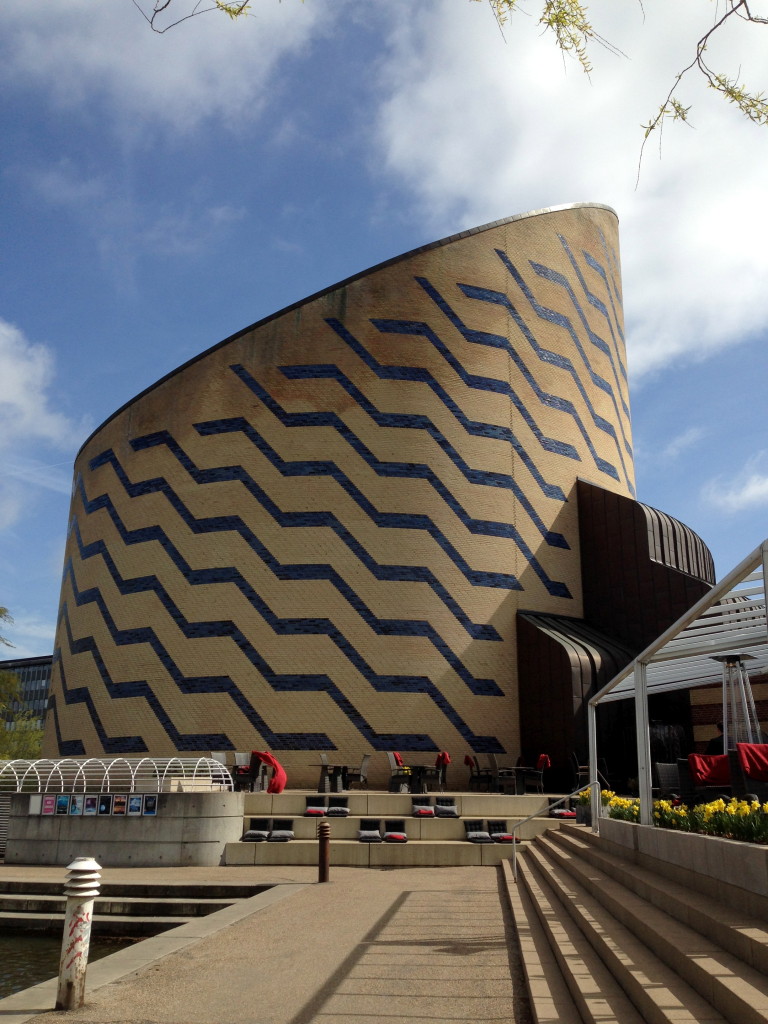 Next onto Istedgade, the avenue of sex toys, hotels and hookahs. Touristy hotels abound, the train station pulls travelers from everywhere along with their bikes.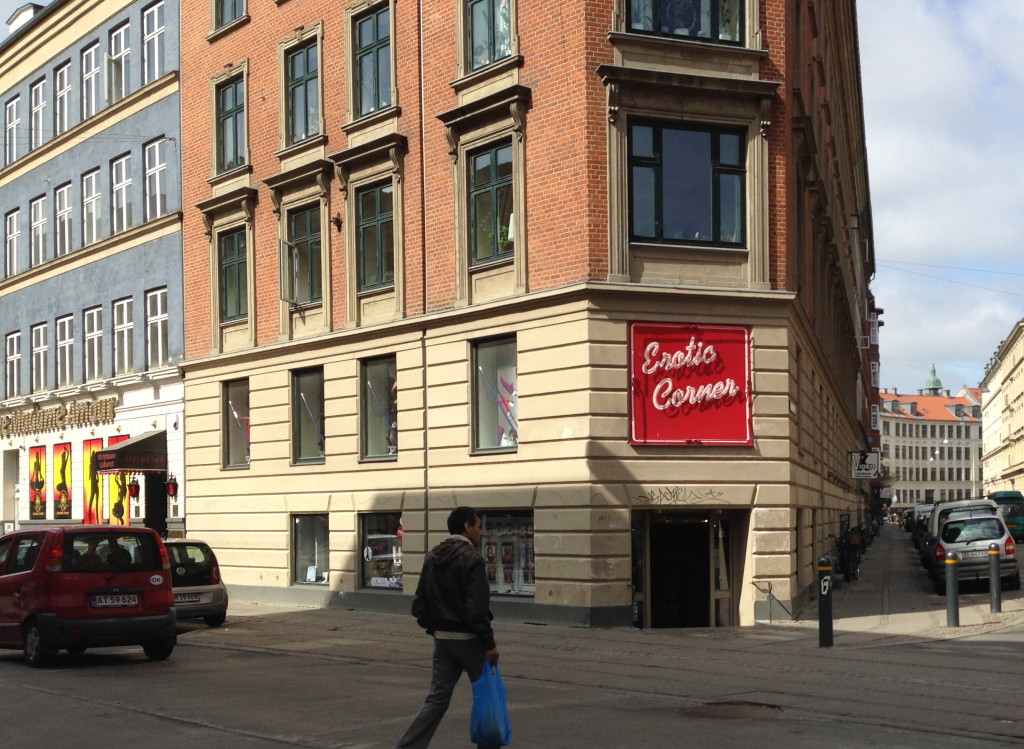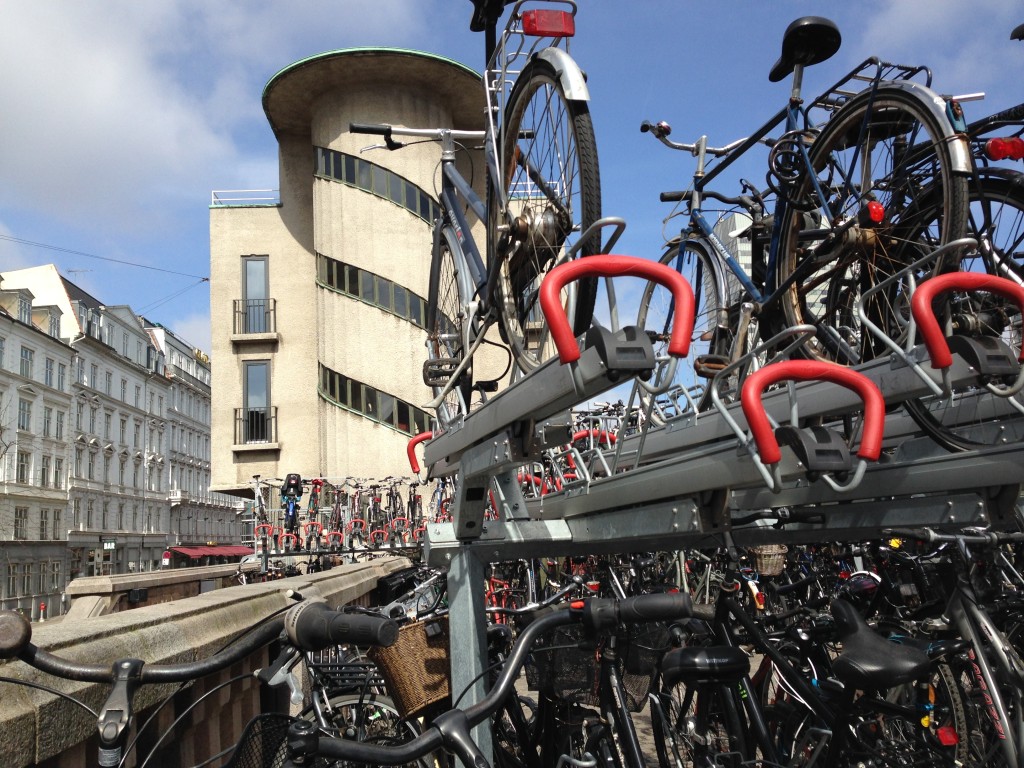 And finally to my destination Ol & Brod.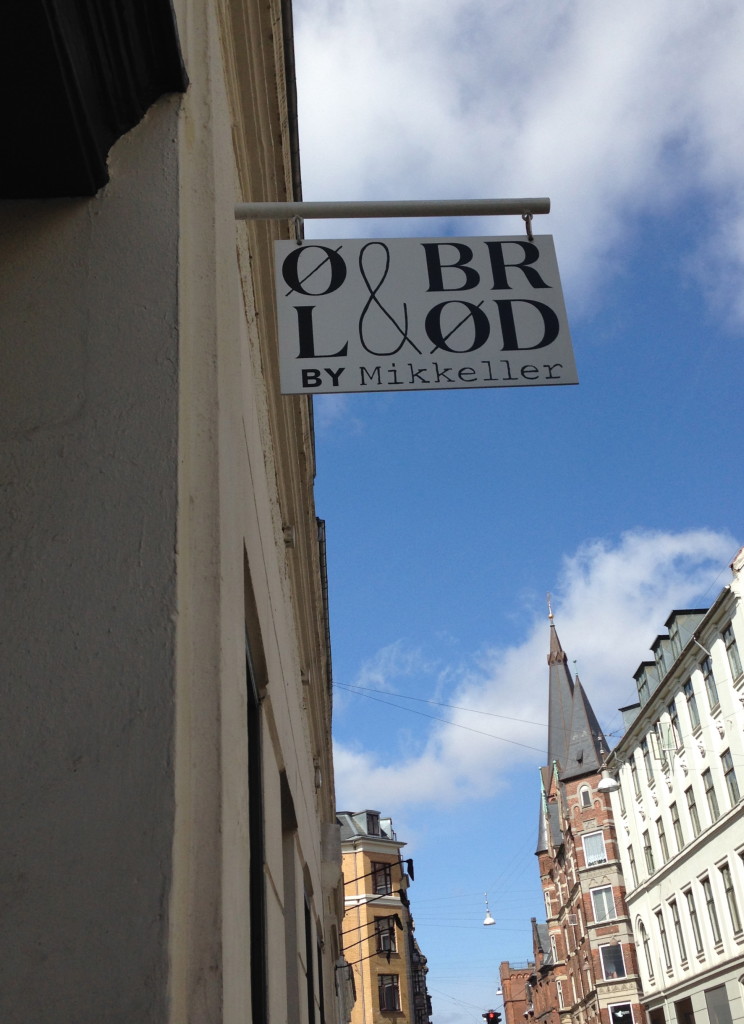 The restaurant is small and cozy, or as the Danes say 'hygge'. Clean Danish lines unencumbered by clutter.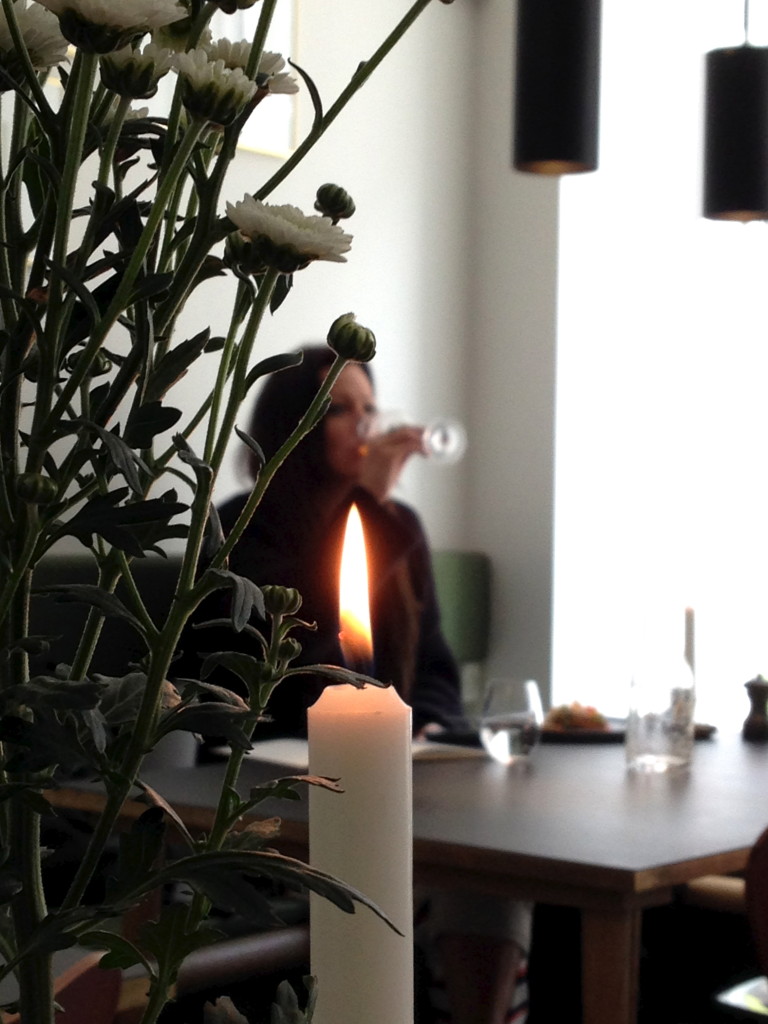 My first smorrebord, steak tatar comes on a dense whole grain bread found all over CPH, the rich, sweet hand sliced beef tenderloin is topped with mayonnaise, crisp apple slices and onions that provide a sweet and sour balance: roasted white onion and a pickled red, a nasturtium leaf atop with a sprinkling of a flavorful magic dust completes the dish.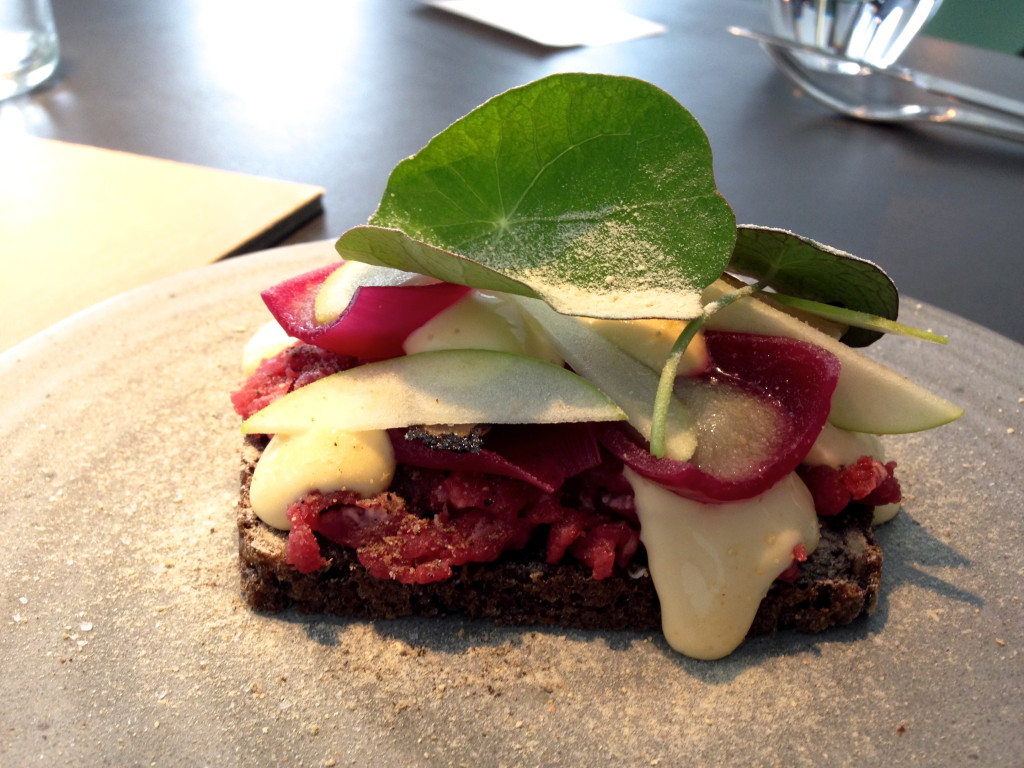 I succumb to the pressure of the other diners enjoying an afternoon beer order a Mikkeller Cream Ale, the lightest on the menu. After a sip I understand why.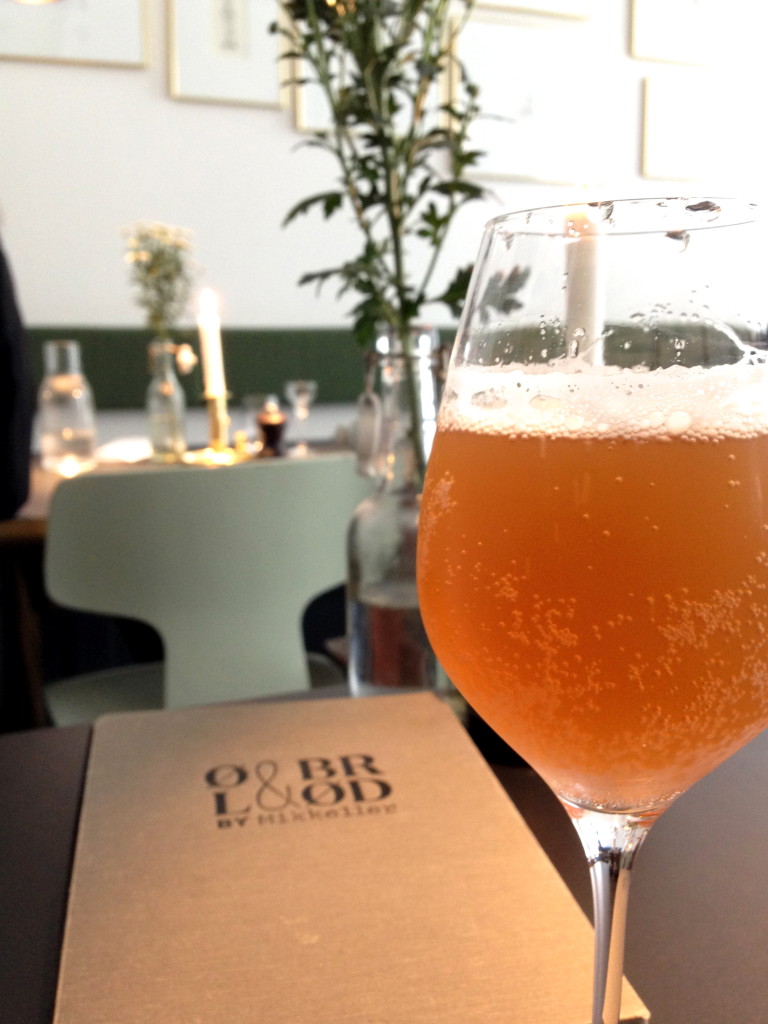 My marinated herring comes out in all its glory: an unbelievable pairing of sweet and sour, crunch and cream. The herring is brought to life with a generous assist of capers, a pickled thinly sliced root of unknown origin, radishes, Dijon mayo, dill and parsley. But the hidden gem found within the folds is the candied seablackthorn berries. These orangy orbs explode with juice and flavor and unite the dish.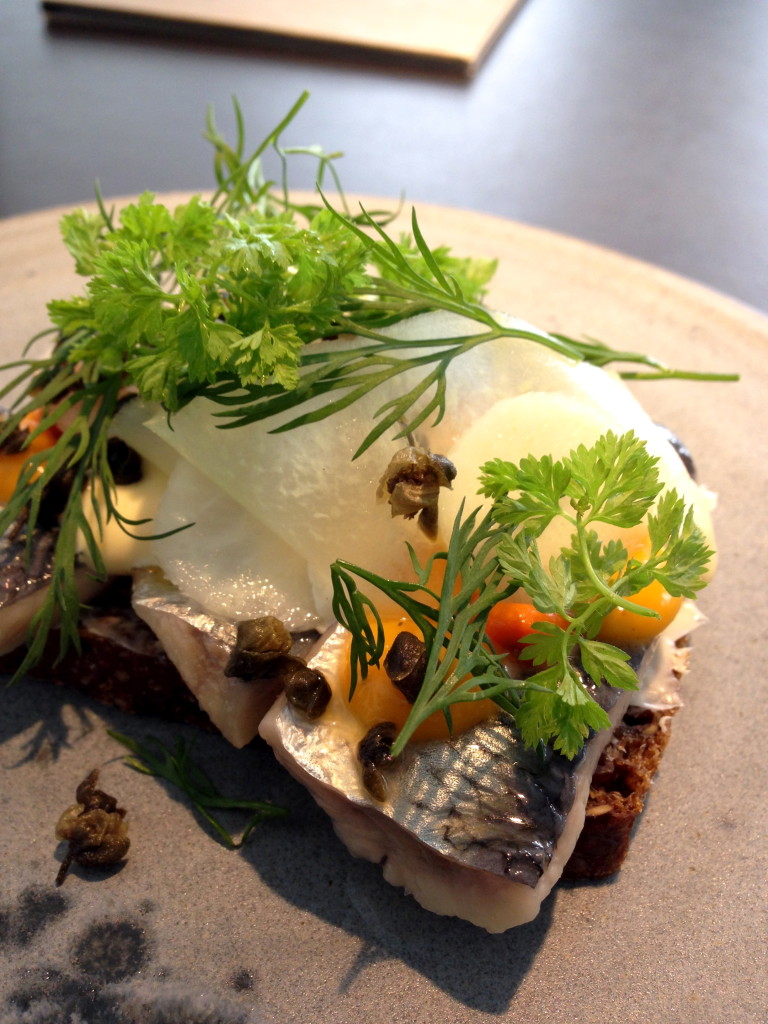 The tatar was good, the herring magnificent.
Do I recommend Ol & Brod? Yes, yes, and yes.
Ol & Brod  Viktoriagade 6, 1655 København
smorrebrod@mikkeller.dk
 +45 33 31 44 22