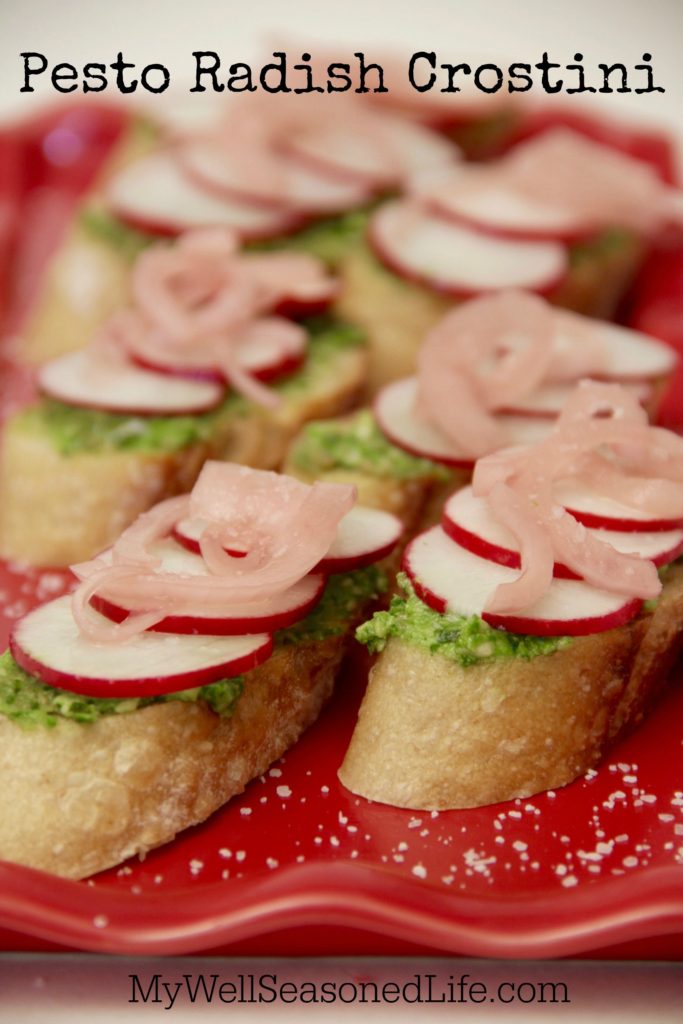 I really can't remember the last time I made pesto probably back in the 70s or 80s when it  appeared on every pasta dish in every restaurant.  It seems that Craig Claibourne introduced the world to pesto in his 1961 publication of The New York Times Cookbook. In a matter of years the pesto phenomena spread through the land. After a while I tried of the basil, parsley and olive oil mixture. So when my friend Katy wanted to learn how to make pesto I didn't have a 'go to' recipe. I checked my very old copy of La Technique by Pepin no recipe there. So I went to the trusty internet and searched…and found the very best pesto recipe that I've ever made and the secret ingredient is spinach.
It turns out that this pesto is good on just about anything or eaten right out of the jar. My love of radishes, pickled onion and pesto conspired to create these pesto radish crostini. I have to admit that my life has become a bit tastier now that pesto is back in my life.
Ingredients
4 cups loosely packed spinach leaves (about 3/4 a bag from Trader Joe's)
4 cups loosely packed basil leaves (a plastic box from Trader Joe's)
4 garlic cloves cleaned
6 oz. grated parmesan cheese
4 oz. pine nuts
1/2 cup olive oil
1 lemon zest and juice
1 baguette sliced
mayonnaise or butter
1 bunch radishes
1 medium sized red onion
1 cup red wine vinegar
1 T sugar
1 cup boiling water
Sea Salt
Instructions
Pesto

Add garlic, pine nuts, lemon zest and a splash of olive oil to the bowl of a food processor and pulse a few times.
Add about two cups each of basil and spinach and pulse until the leaves are chopped a bit.
Add parmesan cheese and more basil and spinach pulse and then churn until the leaves are chopped.
With motor running pour the olive oil in and blend until incorporated. Add 2 T of lemon juice, salt and pepper pulse and taste. Add more lemon juice, salt or pepper as needed.
If not using right away place pesto in mason jar, pour a bit of olive oil on top to seal and refrigerate. It will keep for about two weeks.

Pickled Onions

Heat water and pour one cup into medium sized bowl.
Add sugar stir to dissolve
Add red wine vinegar
Slice red onion and add to vinegar mixture and let sit for an hour or so. (The pickled onions will last for at least two weeks in the refrigerator.)

Radishes

Wash and clean the radishes.
Slice thin with knife or mandolin

Bread

Slice half inch slices of the baguette
Coat each side of the bread slices with mayonnaise or butter
Heat griddle and toast each side of the bread slices until golden brown

Assembly

Spread pesto on each slice of toast
Add 3-4 slices of radishes on top of basil
Add a few slices of pickled onions on top of radish
Sprinkle with sea salt.
https://www.mywellseasonedlife.com/pesto-radish-crostini/