My stay in New Jersey has been a busy one. My brother Robert dropped by with a tailgate filled with pheasants.  He had just been hunting and brought along two males and two females to be cleaned and eventually eaten.
My brother Robert or as I always call him "Wabert" (just like a little kid who can't pronounce r's would say) has hunted all his life and is a tough, rugged guy.  Yet in my mind Wabert kind of always looks like this…cute younger brother.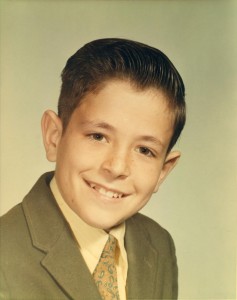 So when I saw the pheasants I asked Wabert what I should do with them.  He told me that before you eat the birds they must be cleaned.  My brother doesn't like plucking the feathers so he's found a way to get to the breasts without all the fuss.   So here is my younger brother Robert showing me how to clean a pheasant.  Warning, if you get grossed out easily just skip to the recipes.
So now that I received a really great demo and a number of cleaned pheasant breasts the question was what to do with them.  Since I had reassurances Wabert that the pheasant wasn't gamey I thought of making a piccata with lemon and capers served with polenta with mushrooms and roasted broccoli: Simple, easy and delicious.  Give it a try the next time someone brings you pheasants.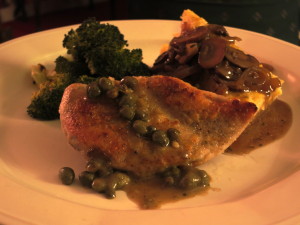 Pheasant Piccata with Lemon and Capers
4 freshly cleaned pheasant breast
1 lemon zested and juiced
Splash of olive oil to sauté breasts
3 tbs of capers
½ cup white white
Salt and pepper the pheasant breasts. Dredge them in flour to coat.
Heat medium sauté pan when hot add olive oil.  Place breasts in hot oil and sear on each side until cooked about 3 minutes on each side.
Remove breasts from pan. Pour white wine and reduce, add lemon juice and zest, capers.  Cook for about 3 minutes.  Return pheasant breast to pan and swirl in sauce.
Plate.