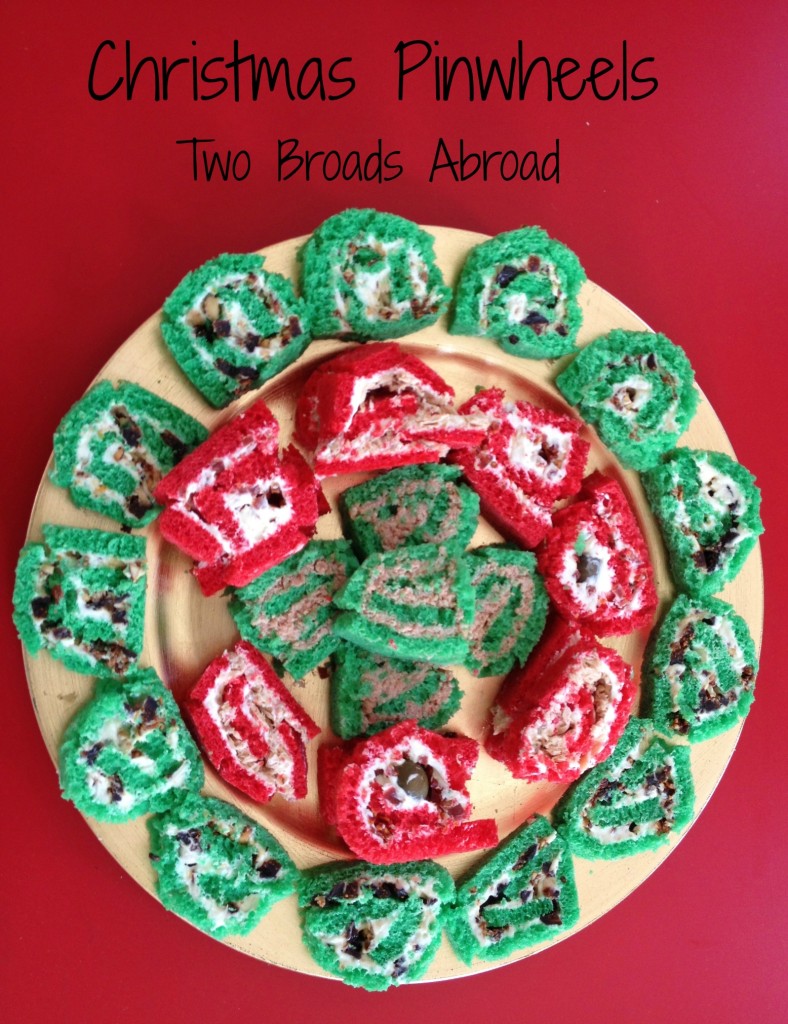 I spent most of November with my mom in New Jersey.  While she napped I had the opportunity to wander backwards in time via old photos and recipes.  Floods of memories rushed over me.
My mom tried very hard to keep up with the new and exciting world of food that Julia Child and the Galloping Gourmet were introducing to a meat and potato nation.  And one of the appetizers that I thought was the coolest thing ever was her red and green pinwheel sandwiches.  Once she started making them all the other ladies on the block copied her.
For this Christmas I thought I'd give them a go.  I called my mom and asked how the pinwheel sandwiches were done.  Her instructions were, "Jude, just order your red and green loaves from the bakery and have them slice it the long way.  Then you can fill them with cream cheese and olives, deviled ham, tuna or egg salad."
I had a funny feeling that Proof bakery was not going to take kindly to my order of red and green sandwich bread.  So this was going to be a "from scratch" endeavor.
I turned to the kitchen goddess of any era Julia Child for a bread recipe and divided it in half to make the different colored loaves.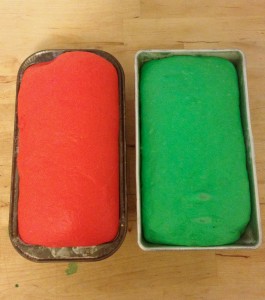 As for the filling I updated one and used chevre, honey toasted almonds and figs.  Embracing the past I whipped up 8oz of cream cheese, spread it onto three different slices then sprinkled one with chorizo and olives and another with canned salmon.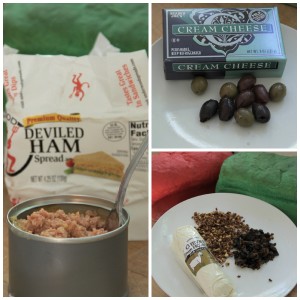 The final roll was with only deviled ham and unless you've eaten this recently I don't advise.
Here's to enduring holiday memories.
Red Bread or Green Bread (Or Any Color For That Matter)
1 ½ c warm water
1 ½ t yeast
2 t red food color (or food color of your choice)
1 ½ t sugar
3 ½ c flour
1 ½ t salt
2 oz. butter at room temperature
Chèvre filling–4 oz chèvre  1/4 cup chopped toasted almonds  3 dried black mission figs, 2 t honey
8 oz cream cheese whipped
1 can salmon
10 or so pitted olives
5 slices chorizo
1 can deviled ham ONLY IF YOU DARE
Bread–In bowl of upright mixer dissolve yeast in ¼ cup warm water
Add red food color to the remaining warm water.  Stir
Attach hook to mixer then add flour, sugar and salt to the yeast (remember that salt applied directly to yeast will kill it).
Turn on low and slowly pour in water. Knead for about 3-5 minutes until flour is incorporated.  If dough is sticking to the bowl add a bit more flour.
Add the butter a bit at a time and knead until incorporated.
If you are going to make another loaf transfer dough to bowl cover with plastic and let rise for an hour.  If you are making a green loaf repeat the process except add green food color.
After an hour turn dough to a floured surface and press into a rectangle. Fold the right and left edges so they meet in the middle and starting from the top roll dough into a log. Place in medium sized bread pan.  Let rise for one hour.
Bake in 350 oven for 30 minutes.  Remove loaf from pan and cool on a rack.
Place cream cheese in mixer and beat until spreadable. Put in different bowl
Place chèvre and honey in bowl mix until smooth.
Assembly Once cooled, slice the loaf from end to end, top to bottom to create a long slice.  Spread whatever filling you choose to make then roll the pinwheel from the short side.  Slice.