Two Broads Abroad have decided to conduct a trial run for their pop up supper club.  One of our goals in life is to live abroad for six months out of the year.  Being practical women we want to be able to earn some money to support our life in our country of choice.  Nahid's skill set is the real moneymaker, she holds a masters degree in English as a Second Language.  I, on the other hand have less marketable skills.  Yes, I know how to cook but how do I rally that into cash flow?  You guessed it, the pop up supper club.
We have attended many of these events.  My first event was with the Ghetto Gourmet six years ago in a small house in Silverlake.  My friend Sharon and I sat on the floor, held onto our forks and knives and had a delightful night.  We brought a nice red, someone else had the foresight to bring a dessert wine and the generosity of spirit to share.  It had a wonderful feeling of the unknown, food and conversation.
Encouraged by that unique evening Nahid and I sampled Chicks with Knives, Taste of Pace and On the Lamb here in Los Angeles. When we traveled to Buenos Aires, Argentina we went to SaltShaker.
Our positive experience at these events gave rise to the idea that the pop up might be something that I could do.  But first we need to get ourselves on the map.  Hence the trial run on Sunday.  The menu is inspired by the bounty that spring has to offer.
Welcome cocktail–Cava and rhubarb simple syrup
Amuse Bouche–Parmesan cracker with fresh fig
Blue cheese tart
Pea sprouts with blood orange and tomatoes
Scallops with broccoli rapini and red pepper puree
Fresh pasta with asparagus and seasonal farmers' market mushrooms
Chocolate mousse, coffee ice cream with olive oil and sea salt.
Of course, things aren't going quite according to plan.  Mostly it's an element that we have absolutely no control over—the weather.  We plan to serve the meal on the deck and it's been very cold at night.  So to ensure the warmth and comfort of our guests we purchased patio heaters.  Problem solved…but not quite.
The amuse bouche that we plan on serving has fresh figs as THE main element.  I have a fig tree on the deck with ten beautiful fig bulbs whose march to ripening has been stalled because of the cool weather.  A plan b must be found!
I went to Trader Joe's and purchased dried black mission figs.  My plan is to re-hydrate the figs with a simple syrup and vodka. I'll let you know how it turns out.
For those of you who would like to create the fig amuse bouche in a few weeks, here's the recipe.
FRESH FIGS ON PARMESAN CRACKERS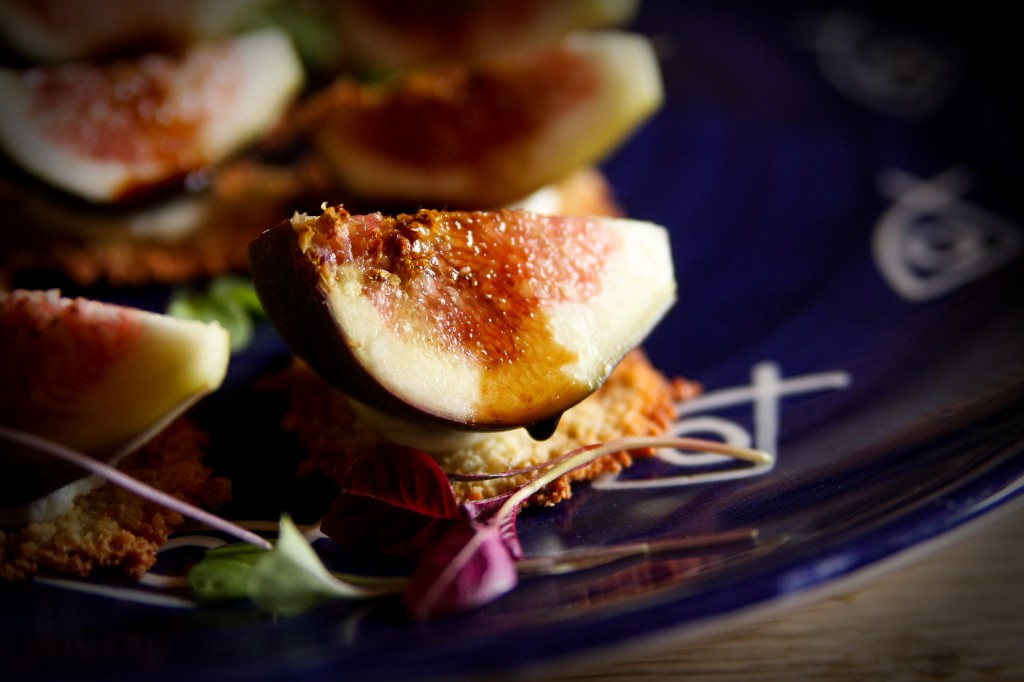 3/4 cup grated Parmesan cheese
6 ripe black mission figs or a fig of your choice
1/4 cup of mascarpone cheese
1/2 cup of balsamic
Parmesan Crackers
Preheat oven to 350 degreesPlace 12 one-inch circles of grated Parmesan cheese on a sheet pan.  Sometimes the cheese spreads so leave enough room.  The discs should be approximately an eight of an inch high.
Bake crackers for about 10 minutes or until brown around the edges.
When done quickly remove the crackers from the sheet pan with a spatula. Cool on a rack.  If the crackers start to stick put them back in the oven to warm a bit.
The good news about these crackers is that they can be made in advance and stored in an air tight container.
Balsamic Drizzle
Place half a cup of balsamic vinegar in a sauce pan.  Over medium low flame reduce until a 1/4 of a cup remains.  Cool
Assembly
Cut figs in half
Place Parmesan crackers on nice serving dish.
Put a dollop of mascarpone cheese on the cracker
Place fig on top of mascarpone
Just before serving drizzle reduced balsamic.
Enjoy.