What do you get when you toss cauliflower, dried golden figs and hazelnuts into the oven?  The start of an incredible veggie meal.  If you're looking for a vegan and gluten free dish this is the one to make.
I was inspired by a recipe on the California Fig site but I wanted a little more substance so I added red quinoa and for a little more crunch roasted hazelnuts.  This is a simple dish bursting with flavor and crunch.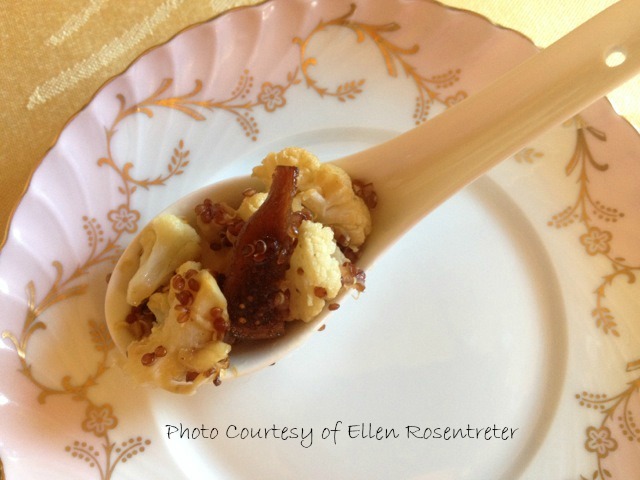 Roasted Cauliflower and Figs (adapted from California Fig site)
12 dried California Calimyrna figs
6 cloves garlic, peeled and minced
1/4 cup extra virgin olive oil
¼ cup hazelnut oil
¾ cup hazelnuts coarsely chopped
2 tablespoons fresh lemon juice
1 teaspoon salt
1/2 teaspoon freshly ground black pepper
2 fresh lemons, sliced
1 cup red quinoa
 Preheat oven to 400°F. Remove and discard outer leaves and thick stem from cauliflower; divide, vertically, into quarters. Then, with each quarter laying flat on the cut side, cut into 1/4-inch slices. Remove stems from figs and cut, lengthwise into eighths.
In mixing bowl, combine minced garlic, olive oil, hazelnut oil, hazelnuts, lemon juice, salt and pepper; mix well.
Add sliced cauliflower, figs and lemon slices; toss to coat lightly. Transfer mixture to large ovenproof casserole or half sheet pan and spread evenly in a shallow layer. Roast at 400°F until cauliflower is lightly browned and tender, about 30 minutes.
While cauliflower roasts, cook one cup of red quinoa in 2 cups of water. Or follow directions on the package.
When cauliflower is done add cooked quinoa, toss and serve.
Special thanks to Ellen Rostentreter of Within My Means for use of her photo.