To say that I'm elated that 2013 is over is an understatement.  Don't get me wrong, the year started with great promise and even delivered with a more than wonderful trip to Italy.  It was the final seven months that were a killer.
I begin 2014 with a heart felt thank you to my friends and family, particularly my Bubala—Barbara, Sharon, Jessica, my big brother Michael, a really great Dane (person not dog)—Mette, and my Mom. 
And I say a sad goodbye to Mz. Riz.  We will be traveling on separate paths from now on.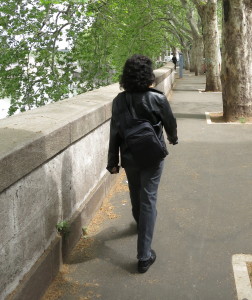 But for me there will always be Rome.
So how to begin this new chapter in my life?  Well I'm still going to cook and travel. But will expand my world with cooking classes, my new place or yours.  (More on this later)  Hold more Eat With events.  And write a new blog called "A Well Seasoned Life".  This blog will focus on my efforts to recreate a new life.  It will be opinionated, hopefully funny, and not food related, basically a post-menopausal, single woman making her way through this world kind of blog.  Here's the first entry.
Please join me in starting the New Year with these lovely, delicious and profoundly easy stuffed dates.  Thank You, Enjoy and Happy New Year!!!!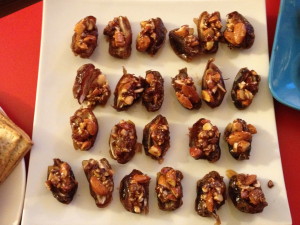 Dates Stuffed with Almonds and Honey
 Half bag of your favorite dates
½ cup whole almonds coarsely chopped
½ cup honey
1 T olive oil.
Remove pits from dates Place on dish
Heat medium sauté pan  Add almonds and honey heat until the honey bubbles up
Add olive oil mix with spoon
Remove mixture to bowl and cool.
Place generous teaspoon of almond mixture in each date