Instantaneous snarkiness spews out of my mouth with little to no provocation. But when confronted with 'new' food trends, watch out. Toast?! Really, you're standing in line to pay $7 for toast?
Or the 'Name Your Ingredient Cleanse': because one can't rely on kidneys or livers to do their job. Oh, and by the way, cleanses don't work.
Or the latest fad: broth. Give me a break. Broth, aka stock, has been chock filled with nutritious goodness since its inception. True most mass produced stock is not that great or filled with goodness. (In my experience most store bought stock is filled with carrots) But if you throw roasted bones in with onions, celery, garlic, carrots and water you've got a little bit of heaven waiting to happen in your kitchen.
So you can imagine my face and attitude when I approached Brothee's tasting table at the LA Kitchen and LA Prep tour.
Snark on steroids.
An array of their 'broth' products: Bold Beef, Roast Chicken and Wild Vegan Mushroom lay before me. As I grabbed one of the paper cups filled with Bold Beef the deep color was a bit of a surprise, as was the aroma wafting upwards and when I tasted the broth it silenced my smart-assed mouth. Bold Beef is an apt name for this broth because of its richness, flavor depth and, well, bold flavor. Roasted Chicken tasted just as good as the beef.
But the Brothee broth that made me a believer of Brothee products is their Wild Vegan Mushroom Broth. It's like taking a tour through a mushroom forest and drinking its elixir. The flavors of chaga, shitake, porcini and morels swim in perfect harmony.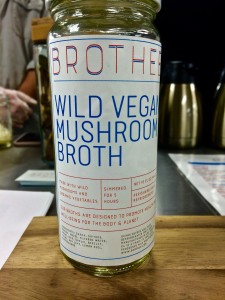 I left LA Kitchen humbled and armed with a sample of Wild Vegan Mushroom Broth and visions of what to cook.
Here is the wild vegan mushroom sauce that I tossed with some bowties.
Wild Vegan Mushroom Sauce
Ingredients
1 lbs. crimini mushrooms sliced thick
1 medium onion coarsely chopped
6 cloves garlic sliced
1 cup port
5 tomatoes chopped into quarters
1 bunch asparagus cut into 2 inch pieces
2 T fresh thyme
16 oz. Brothee Wild Vegan Mushroom Broth
1 lbs. bow tie pasta
Olive oil

Roux

3 T flour
3 T olive oil
Instructions
Heat large saute pan add a splash of olive oil. Heat until oil dances add half sliced mushrooms. (Remember what Julia said, "Don't crowd your mushrooms.") Brown, flip, remove from pan add more oil brown the remaining mushrooms.
Remove mushrooms from pan. Add onions and garlic. Cook for about 2 minutes.
Return cooked mushrooms to pan.
Pour in port, increase heat and cook until port is reduced.
Add tomatoes
Pour in broth bring to boil and simmer for about 5 minutes.
Make roux by combining the flour and olive oil in a small bowl and mix until smooth.
Add half the roux to saute pan stirring constantly. If you want the sauce thicker add more.
Add asparagus and thyme. Add salt and pepper. Cook for 5 more minutes.
Pour over cooked bowties.
https://www.mywellseasonedlife.com/wild-vegan-mushroom-sauce/