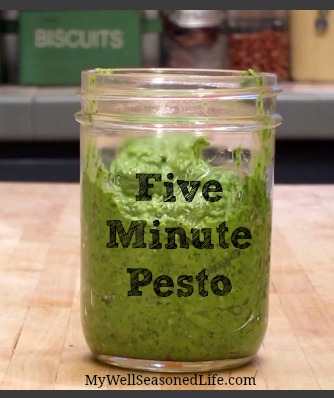 Pesto is making a comeback in my kitchen. And this five minute pesto is the best. I was inspired by a recipe that I found on Serious Eats. I've changed it up a bit and found that Trader Joe's is a one stop shop for the ingredients you'll need. I've dispensed with the mortar and pistol and use my food processor.
I've been using pesto on radish pesto crostini, on pasta and soon you'll see it on my cauliflower pizza.
Here's a video that takes you through the steps.


Ingredients
4 cups loosely packed spinach leaves (about 3/4 a bag from Trader Joe's)
4 cups loosely packed basil leaves (a plastic box from Trader Joe's)
4 garlic cloves cleaned
6 oz. grated parmesan cheese
4 oz. pine nuts
1/2 cup olive oil
1 lemon zest and juice
Instructions
Add garlic, pine nuts, lemon zest and a splash of olive oil to the bowl of a food processor and pulse a few times.
Add about two cups each of basil and spinach and pulse until the leaves are chopped a bit.
Add parmesan cheese and more basil and spinach pulse and then churn until the leaves are chopped.
With motor running pour the olive oil in and blend until incorporated. Add 2 T of lemon juice, salt and pepper pulse and taste. Add more lemon juice, salt or pepper as needed.
If not using right away place pesto in mason jar, pour a bit of olive oil on top to seal and refrigerate. It will keep for about two weeks.
https://www.mywellseasonedlife.com/5-minute-pesto/