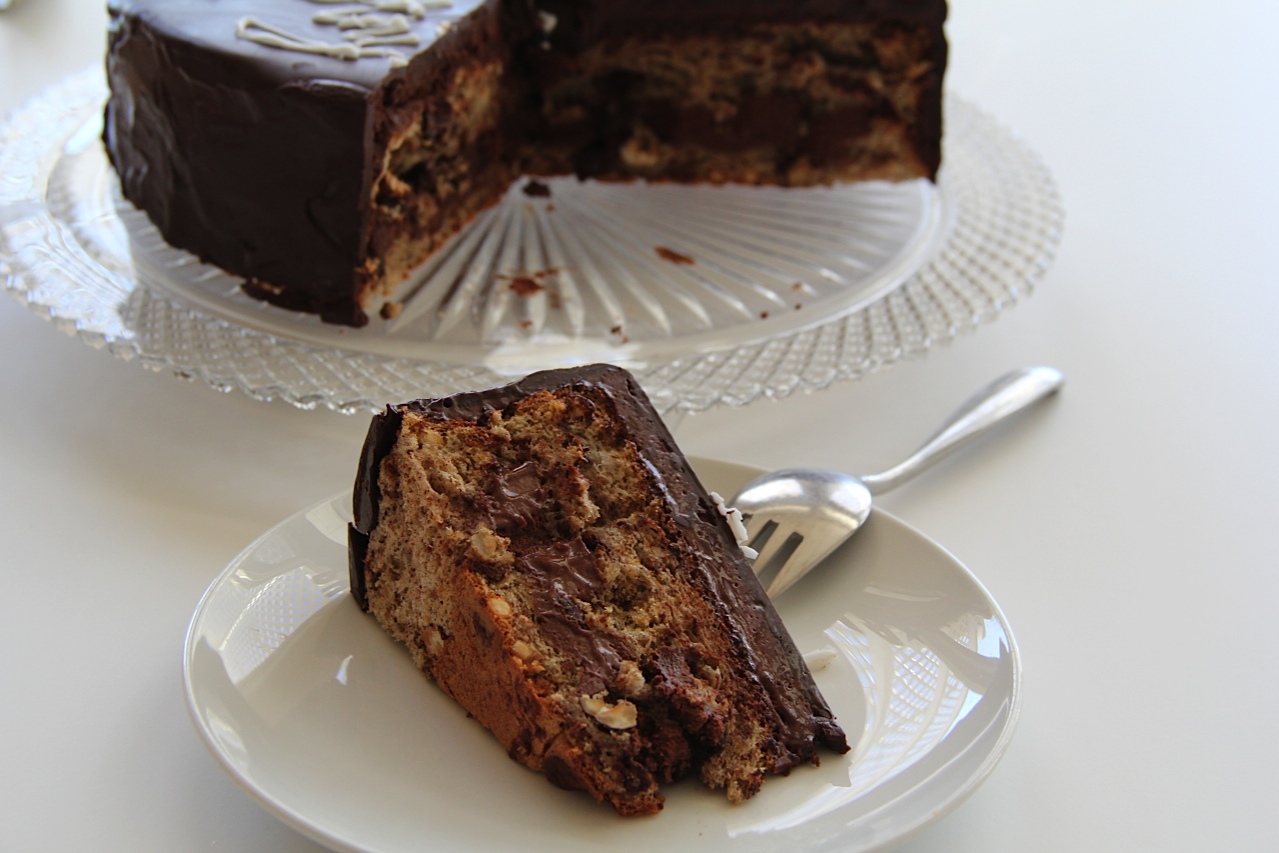 This is my go to birthday cake.  I've been making it for years.  It's got everything I want in a dessert–crunch from the walnuts, cinnamon, two types of chocolate–Ibarra Mexican chocolate in the cake and bitter sweet for both whipped and melted ganache.
Chocolate Walnut Cake
The cake
6 egg yolks
5 egg whites
1/2 cup sugar
1/2 cup flour
1/2 cup cake crumbs
1/2 cup walnut pieces
1 bar Ibarra chocolate coarsely chopped
I tbsp cinnamon
pinch of salt
1.  Whip egg yolks with with 1/4 cup of sugar until ribbon stage.
2.  In separate bowl add remaining 1/4 cup of sugar to egg whites and whip  until medium peaks are formed
3.  Combine remaining dry ingredients in a bowl and mix.
4.  Fold dry ingredients into yolks.
5.  Fold whites into yolk mixture
5.  Pour into 9 inch spring form pan and bake at 350 for 30 minutes.
Ganache
1 lbs. semi-sweet chocolate
2 cups heavy cream
1.  Chop chocolate and place in bowl
2.  Heat heavy cream until it almost boils and pour over chocolate. Let stand about 2 or 3 minutes then emulsify the cream and chocolate until smooth.
3. Divide ganache in half.  Place one half in refrigerator and stir every 5 minutes or so until it's room temperature.  Once the ganache reaches room temperature whip at medium speed until fluffy and it lightens a bit.
Assembly
1.  Remove cake from spring form pan. Slice cooled cake in half.  Place whipped ganache on bottom half to form a 1 inch layer of filling.  Place other half of cake on top of whipped ganache.
2.  Frost the the cake and place in refrigerator until set.  At least an hour.
3.  Place frosted cake on wire rack.  Pour room temperature ganache on top of cake and gently push ganache over the top so it drips down the sides and coats them thoroughly.