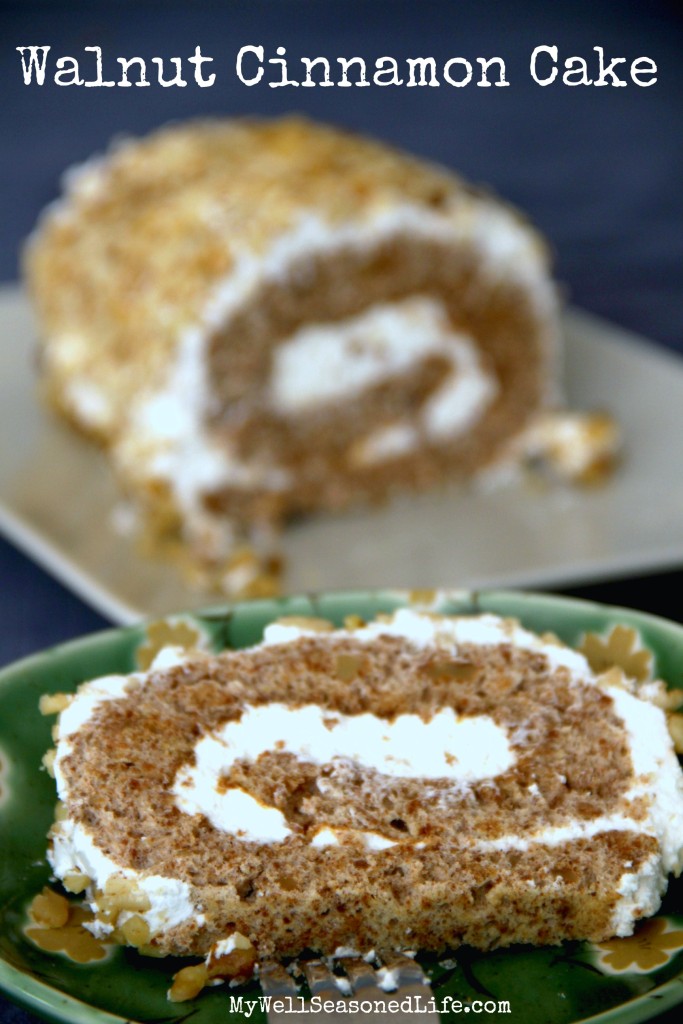 Once I conquer a recipe than it's mine to reinvent. And that's exactly what I did when I created this rolled walnut cinnamon cake. My tried and true walnut chocolate cake is the foundation from which this cake sprang into life. It also helped that my dinner guests weren't fond of chocolate so my standby Death by Chocolate cake was out, as was the walnut chocolate cake.
Fortunately I am surrounded by incredible food bloggers who really know their stuff like Christina's Cucina. Christina made a delicious and easy rolled cake in this video…
…alas I had found my inspiration.
A great tip for creating a rolled cake that keeps its roll is to roll the baked cake between two pieces of parchment and then wrapping the roll in a kitchen towel. Do this while getting the whipped cream ready and you'll have a wonderfully shaped roll.
Christina and I don't like sweet whipped cream, so this walnut cinnamon cake is brushed with a cardamon simple syrup and filled with whipped cream using just a splash of the syrup as well. Cinnamon and cardamon make my taste buds sing. I hope you will join in the chorus.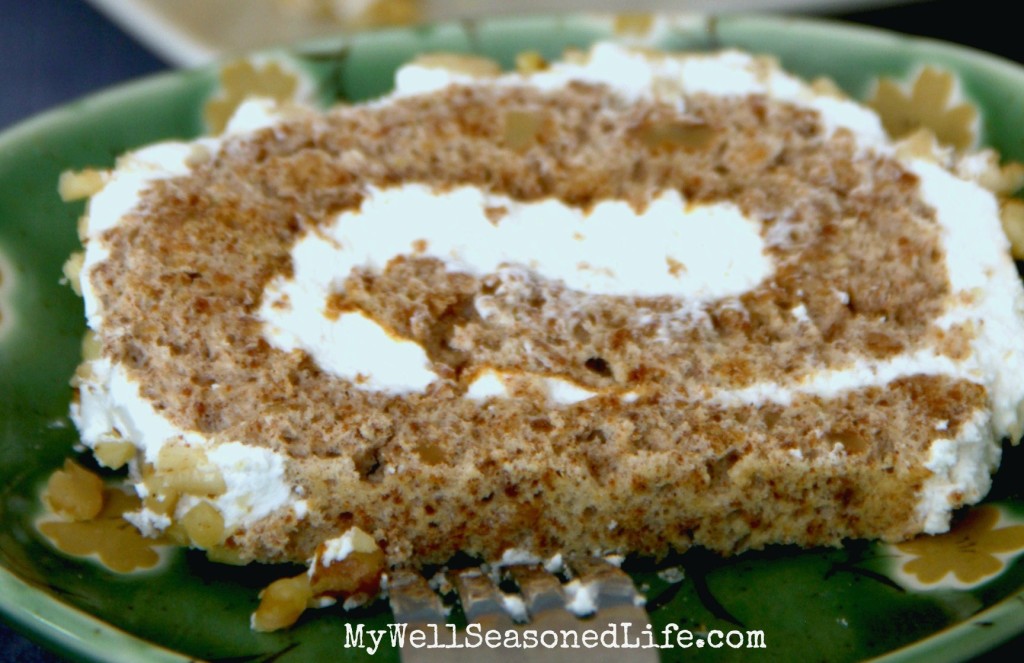 Ingredients
Cake

6 egg yolks
5 egg whites
1/2 cup sugar
1/2 cup flour
1/2 cup cake crumbs (if you don't have cake crumbs grind some vanilla wafers)
1/2 cup walnut pieces (plus 1/2 cup finely chopped walnuts to spread on frosted cake)
I tbsp cinnamon
pinch of salt

Cardamon simple syrup

1/2 cup sugar
1/2 cup water
10 cardamon pods crushed

Whipped Cream

8 oz. heavy cream
Splash of cardamon syrup
Instructions
Cake

Whip egg yolks with 1/4 cup of sugar until it's at the ribbon stage.
Combine remaining dry ingredients in a bowl and mix.
Fold dry ingredients into yolks.
Fold whites into yolk mixture
Line a half sheet pan with parchment paper.
Spread cake batter evenly so it fills the pan.
Bake at 350 for 20 minutes.
When cake is cooled run a knife along the edges of the sheet pan to loosen the cake.
Remove cake.
Place another piece of parchment on top of cake and roll from the short end.
Place rolled cake on an open kitchen towel and roll the towel around the rolled cake. Fold ends so that the cake doesn't unravel. This helps the cake keep its rolled shape.

Simple syrup

While cake bakes
Add sugar, water and crushed cardamon seeds into a sauce pan. On medium heat bring to boil and cook until a syrup forms about 5 minutes.
Allow syrup to cool. Keep the seeds in the syrup until ready to use.
Strain syrup into small bowl

Whipped cream

Add cream to a bowl. Add a splash of the syrup to the cream. Stir and taste the cream to see if more syrup is needed.
Whip cream to a spreadable consistency.

Assembly

Unravel cake. Remove top parchment sheet.
With a pastry brush, paint the cake with cardamon simple syrup. You can be generous with the syrup.
Spread whipped cream evenly over the cake.
Roll the cake over the whipped cream layer. Use the bottom layer of parchment paper to assist with rolling the cake, removing as you go.
Place cake on platter and frost the roll with the remaining whipped cream.
Sprinkle with chopped walnuts
Serve.
http://www.mywellseasonedlife.com/walnut-cinnamon-cake/