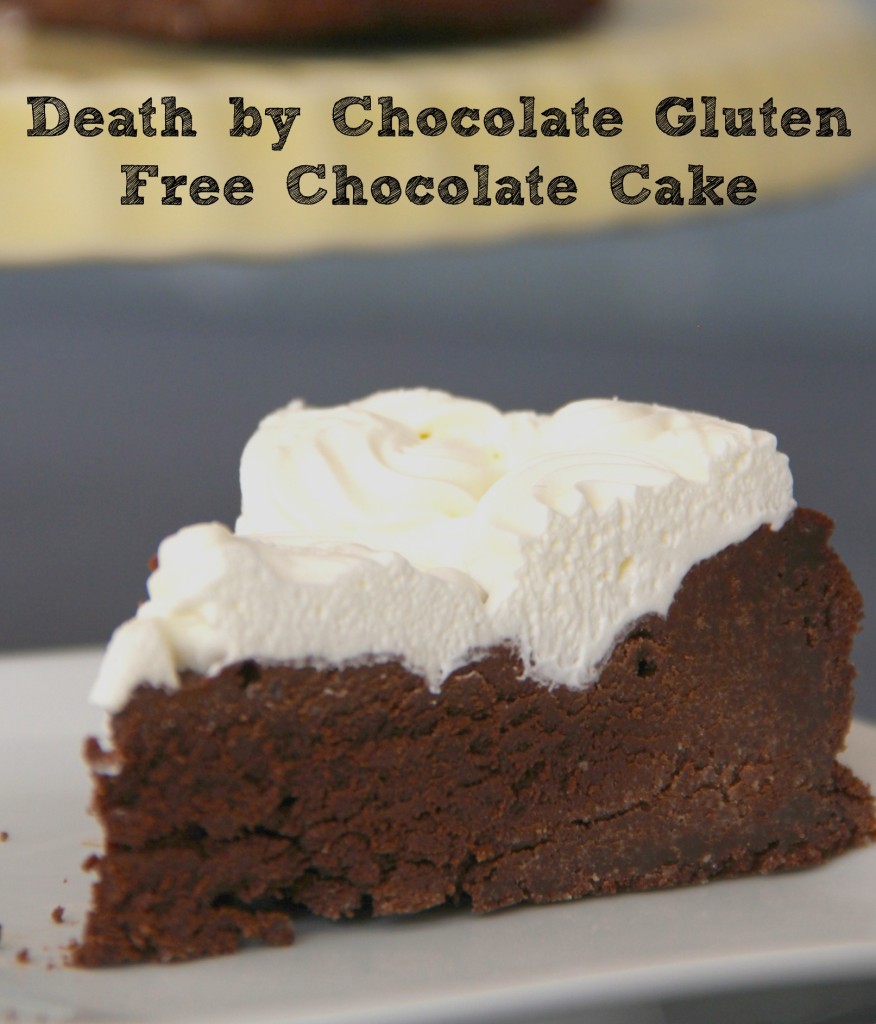 People often ask me, "What is the easiest cake that you make?" My answer is always, my chocolate cake…make that my death by chocolate gluten free chocolate cake, a mouthful, a delicious mouthful. To be honest I've had to update the name of this cake quite a few times since I started baking it in the mid 80s. The original name was truffle cake since truffles were all the rage at the time. It then morphed into flourless chocolate cake in the late 90s because it had a bit of novelty. And now, since gluten is officially the enemy of the people, its new name is gluten free chocolate cake.
Lately I've been calling it 'death by chocolate gluten free chocolate cake' since the cake is super rich and chocolaty. It also has only three ingredients, takes 15 minutes to bake. No matter what you call this cake it will soon become your 'go to' cake.
I am not a choco-holic and usually cut the richness of the chocolate by adding whipped cream and berries. (Yes, I realize the absurdity of that statement.)
This cake is also very versatile: coat it with ganache, bake it in a half sheet pan, cutout circles and fill with cream or peanut butter buttercream for a very decadent and adult spin on 'Ding Dongs' or 'Funny Bones'. Cut out hearts and you've got a great Valentine's Day treat.
I usually double the recipe and make two cakes and throw one in the freezer for that impromptu dinner party. Enjoy.



Death by Chocolate Gluten Free Chocolate Cake

Ingredients
1 pound bittersweet chocolate
½ pound sweet butter
6 eggs separated (best if room temperature)
pinch of salt
Instructions
Preheat oven 400 degrees
Melt chocolate and butter over a double boiler. When the chocolate is almost melted remove from heat, stir until smooth. Cool.
Separate eggs: Yolks in small bowl, whites in bowl of a mixer. Make sure no yolks get in the whites.
Whip the yolks with a whisk or handheld beater until they lighten in color
Whip the egg whites with a dash of salt until they hold their peaks. Don't over whip the whites or the mixture will become grainy.
Add about a quarter of the yolks to the cooled chocolate/butter and stir in (you've just tempered your chocolate). Slowly add the remaining yolks and stir until smooth
Fold in the chocolate/yolk mixture to the whipped whites until fully incorporated.
Pour batter into 9" spring form pan. Bake for 15 minutes. Remove after 15 minutes, the center might be a little soft.
Once the cake is cooled the only way to go is up. Add whipped cream, whipped cream and berries. Flip cake over so you have a smooth bottom and pour on the ganache.
https://www.mywellseasonedlife.com/death-by-chocolate-gluten-free-chocolate-cake/