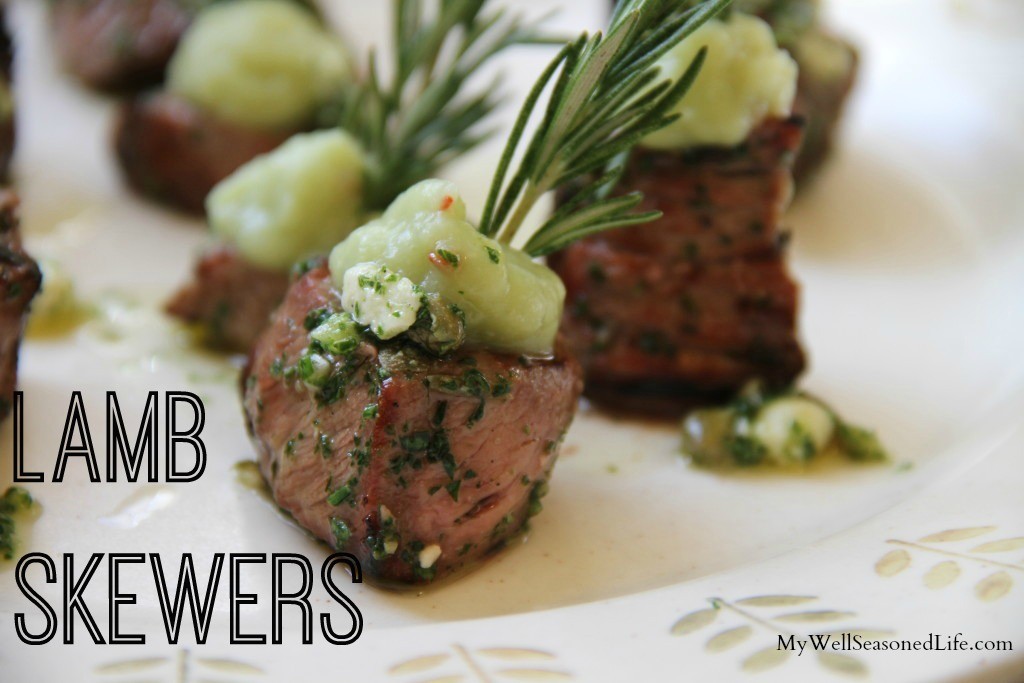 I believe that I cook more lamb than beef. Lamb is a natural for a stew or whereas lamb ribs are great for a summer bbq. But I was looking for something a bit different and found it in  "Sunday Suppers at Lucques" by kitchen goddess Suzanne Goin.
There are many lamb haters out there. These lamb haters feel the meat is too gamey and are turned off. Nine times out of ten the reason for the gaminess is the fat. But this recipe uses clean cubes of lamb. I've overheard party guests say that these lamb skewers are the "best beef they every tasted".
The paring of lamb, feta mint is a home run.  I've made this recipe for dinner many times and have converted lamb haters to the fold.

Since this is a grilled lamb dish with a short cooking time it's best to use leg of lamb or sirloin.
Lamb Skewers: Entree or Appetizer
Ingredients
Lamb Skewers

1 1/2 lbs leg of lamb cleaned and cubed
2 cloves garlic chopped
1 tbs chopped thyme
1 tbs chopped rosemary
olive oil to coat
6 large rosemary sprigs If making entree strip sprigs so there is a tuft of rosemary at the end of each sprig. If making appetizer make small tooth pick sized sprigs. Set aside until ready to serve.

Mint and feta salsa

1/4 lbs. Feta cheese crumbled
1 bunch mint finely chopped
1/2 bunch flat parsley finely chopped
1/2 cup olive oil
1 small garlic clove finely chopped
1 anchovy filet
1 tbs capers coarsely chopped
1/2 lemon zest and juice
Lima Bean Puree
1 bag frozen lima beans
1 sprig rosemary
1 teaspoon red chile pepper flakes or chile de arbol crumbled
2 cloves garlic
1/2 cup olive oil
Instructions
For Skewers

Place all ingredients except the rosemary sprigs into medium sized bowl. Toss
Refrigerate overnight or for at least two hours.
For entree. Place 6-8 lamb cubes on each rosemary skewer. Grill for ten minutes or until desired doneness
For appetizer. Place 6-8 lamb cubes on skewers. Grill for ten minutes or until desired doneness. Remove lamb from skewers into small bowl, add salsa and toss. Insert small rosemary sprigs in hole and place on platter.

For Lima Bean Puree

Cook frozen lima beans for 4 minutes in boiling water. Drain. Set aside.
In medium sauce pan add olive oil and heat at low. Add garilc and pepper flakes or arbol and rosemary sprig. Cook until garlic browns.
Once garlic is brown add lima beans and cook on low heat for about 4 minutes.
Drain off the olive oil into a separate bowl. You'll use this to thin out the puree.
Remove rosemary sprig, and if using chile de arbol.
Add lima beans into food processor and puree. Use olive oil to thin mixture.
If you are making appetizers place puree in pastry bag. Place cubes on serving dish. Squeeze a dollop of lima bean puree on each cube. Insert small rosemary toothpick into each cube. Serve.

For Salsa

Add anchovy filet into medium bowl and smash into a paste with the back of a spoon.
Add the rest of the ingredients so they are well mixed.
Taste and add lemon juice and zest with salt and pepper.
https://www.mywellseasonedlife.com/lamb-skewers/