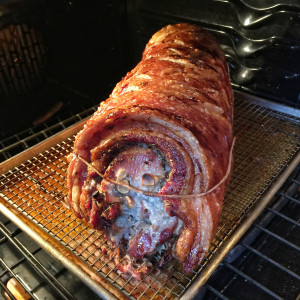 My obsession with porchetta began many years ago while shooting in Italy for a show called "The Five Star Hotels of Italy". Tough, I know, but somebody had to do it. Working on the streets of Rome, Fiuggi, Naples and Amalfi a popular street food seemed to be porchetta—an entire pig, boned, stuffed with herbs, rolled and slow roasted until fork tender served on a bun. I grabbed a porchetta sandwich while shooting a festival of the grape harvest somewhere between Amalfi and Ravello. Delicious but we had to shoot. The moment lost…
…Until last fall while visiting Los Alamos and eating at Bell Street Farm. On their menu is a porchetta sandwich. One bite and the memories came flooding back. Of course, this being California in the early 21st century their porchetta was a thick slice seared to a crisp and served with an apple jicama slaw and a house mayo. My mouth was doing the happy dance.
Driving back through the incredibly beautiful countryside, my mind drifted to porchetta then to my love of the exalted pig, then to a full-fledged obsession with porchetta. As anyone who knows me will tell you, when an obsession seizes me the only way to exorcize the demon is to create it and when perfected, share it…with people who understand one's passion. And that my friends, is how the porchetta fest was born.
The first step was to find a recipe. This took about a day of wandering the web. Pork belly only—no. Tenderloin wrapped in pork belly—a bit too dry before it attained the perfect crisp. Finally a combo of inspiration resulted in the best test run. I even recreated Bell Farms sandwich.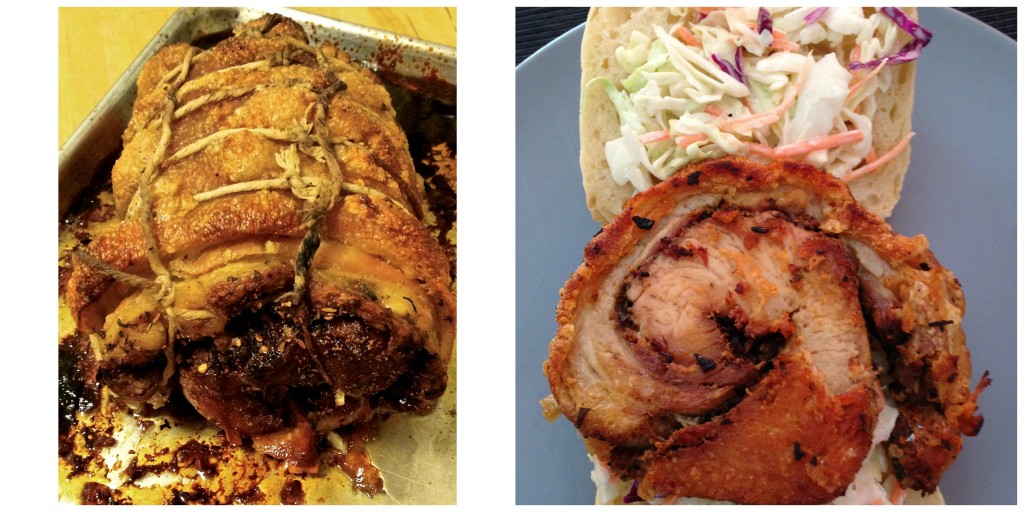 For the porchetta fest I replicated my test run porchetta on a slightly grander scale: 15 lbs. of pork belly and 11 ½ lbs. of a bone in half loin since I couldn't find a butcher that sold half a pig.
Now was the time to celebrate and celebrate we did. My house was filled with some of my favorite food-ophiles who suffer cibophilia.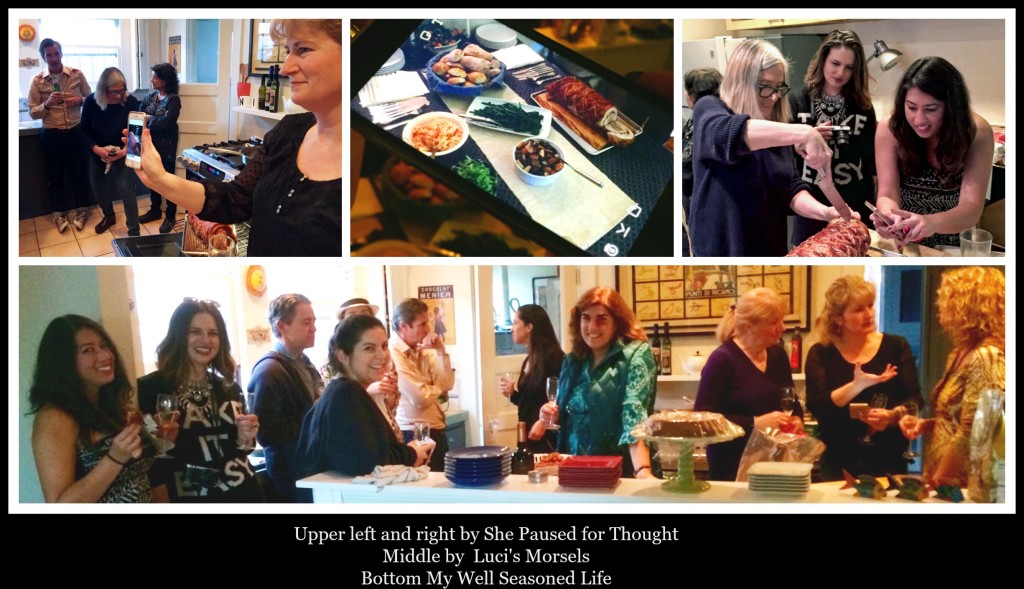 The bottom picture of this collage includes bestest of the bestest (foreground from left to right) Tanaya of Tanaya's Table; Corey of Miss Foodie Problems; Katie and Dorothy of Shockingly Delicious, Lidia and Christina of Christina's Cucina; Cathy of She Paused for Thought. Back row: Valentina's significant other, Luci of Luci's Morsels; Greg of Sippity Sup and Valentina of Cooking on the Weekends.
Everyone grabbed a plate and a seat and then it happened, the sound every cook recognizes as the biggest compliment, the room fell silent, a sure sign that all were eating and enjoying.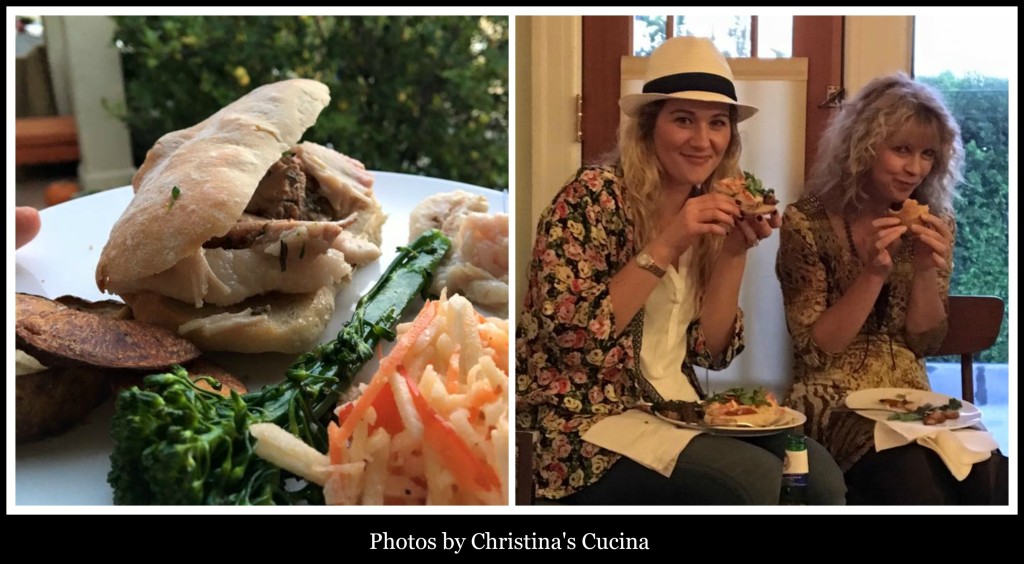 Some fun videos of the festivities.


The recipe is inspired by the porchetta recipes found in Chowhound, Epicurious with an assist from Martha Stewart for suggesting that the lion should be butterflied.
Ingredients
2-3 lbs. boneless pork loin
2-3 lbs. pork belly skin on (buy pork loin first and then bring it to the butcher and buy a piece that is long enough for cover loin)
8 cloves garlic sliced
4 T fennel seeds
2-3 T red pepper flakes
3 T fresh rosemary finely chopped
3T fresh sage finely chopped
Zest of one orange
Zest of one lemon
Baking soda
Kosher salt lots
Instructions
Place fennel seeds and red pepper flakes in sauté pan and toast until aromatic. Cool and then grind.
Place the pork loin on the cutting board starting at the bottom of the loin make a lengthwise slice about 2 inches from the bottom. Continue cutting while rolling the loin from the top away from the cut as if unraveling a rolled towel. Continue until you have a flat piece of loin. Salt and pepper each side of the sliced loin. Place on wire rack while you proceed to the next step.
Place pork belly on cutting board skin side down. With a very sharp knife score the flesh with diagonal slices.
Flip pork belly over so the skin side is facing you. Sprinkle baking soda on the skin in a thin layer. Rub the baking soda all over the skin so there is a thin even coat.
With a sharp knife diagonally score the skin. Then with a tip of a sharp knife poke holes into the skin. (Make sure your hands are grease free.) Then with the jagged side of a meat mallet pound skin with about 15 good, hard whacks. Don't be gentle. Flip pork belly over so the meat side is facing you and whack the meaty side with 10-15 good hard whacks.
With meat side facing you salt the meat. In an even layer spread ground fennel and red pepper, rosemary, sage, garlic and zests. Place pork loin on top of the seasoned pork belly.
Roll pork belly over the loin and tie with twine so that the roll is secure.
Put the roll in a rimmed roasting pan and place in the refrigerator. Allow to stay in refrigerator uncovered for 1-2 days. This gets the skin dry so it will be super crunchy when cooked.
On the day of baking remove uncooked porchetta from frig and bring to room temp. About 2 hours.
Place porchetta in a 500 degrees and roast for 30 minutes. Reduce heat to 300 and continue roasting for 2 hours. If skin isn't crispy enough crank up the oven to 500 and let the skin get a beautiful crunchy golden brown. Let the roast rest for half an hour.
Slice and serve on a roll.
https://www.mywellseasonedlife.com/porchetta/