Rhubarb was all over the place in Copenhagen when I was there in April.
I made a crumble that kind of looked like this, but was devoured by friends before I could snap a shot. I used Christina's Cucina's no fail recipe: a recipe that should be bookmarked by all.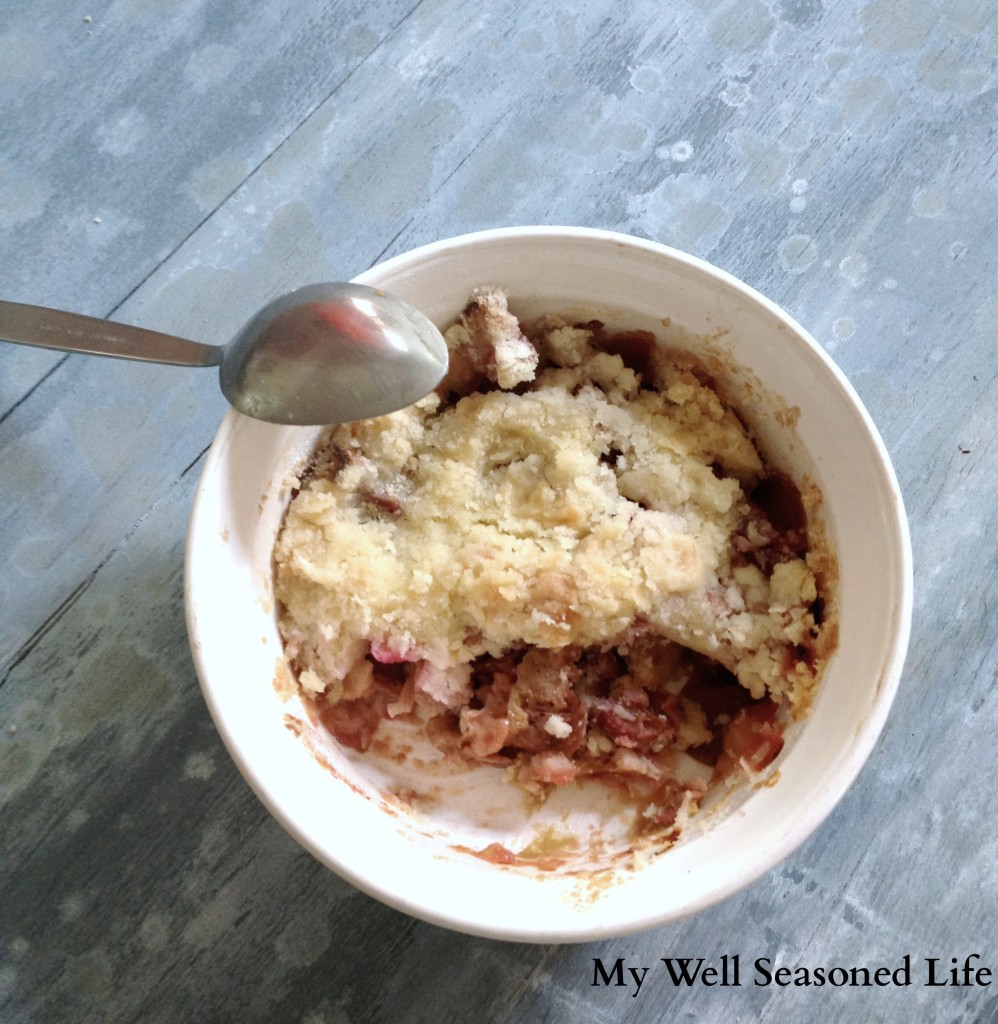 My friend Mette made some rhubarb porridge. Which was an absolute wonder in its simplicity and taste. The recipe's below.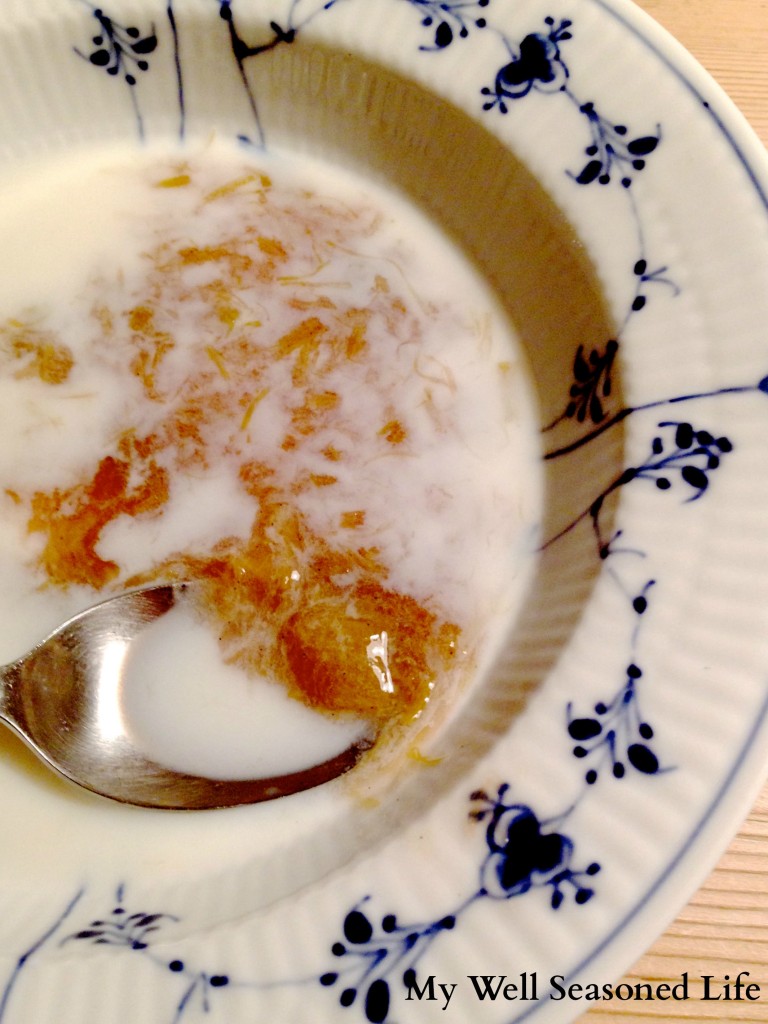 When I returned to LA I was still craving the tart tanginess of rhubarb. As luck would have it I stumbled across this beautiful photo of a rhubarb tart and found my muse. Emily Hilliard runs Nothing in the House, a pie blog. I love how she uses rhubarb stalks in slices that makes for a stunning presentation.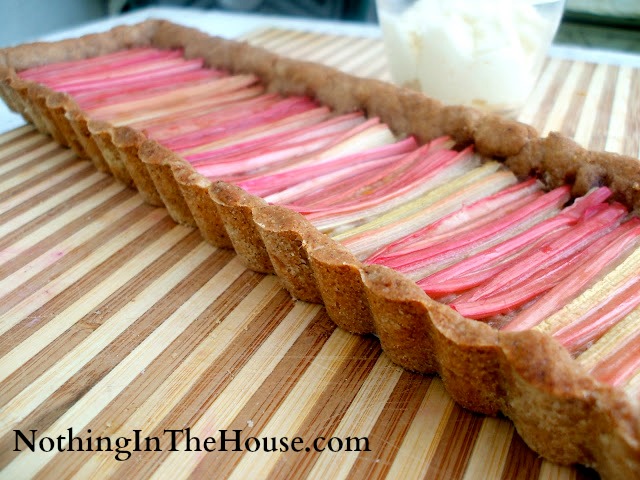 My riff on a rhubarb tart utilizes two tried and true standbys: my very easy almond crust and lemon curd. It wasn't as pretty as Emily's but it sure tasted great.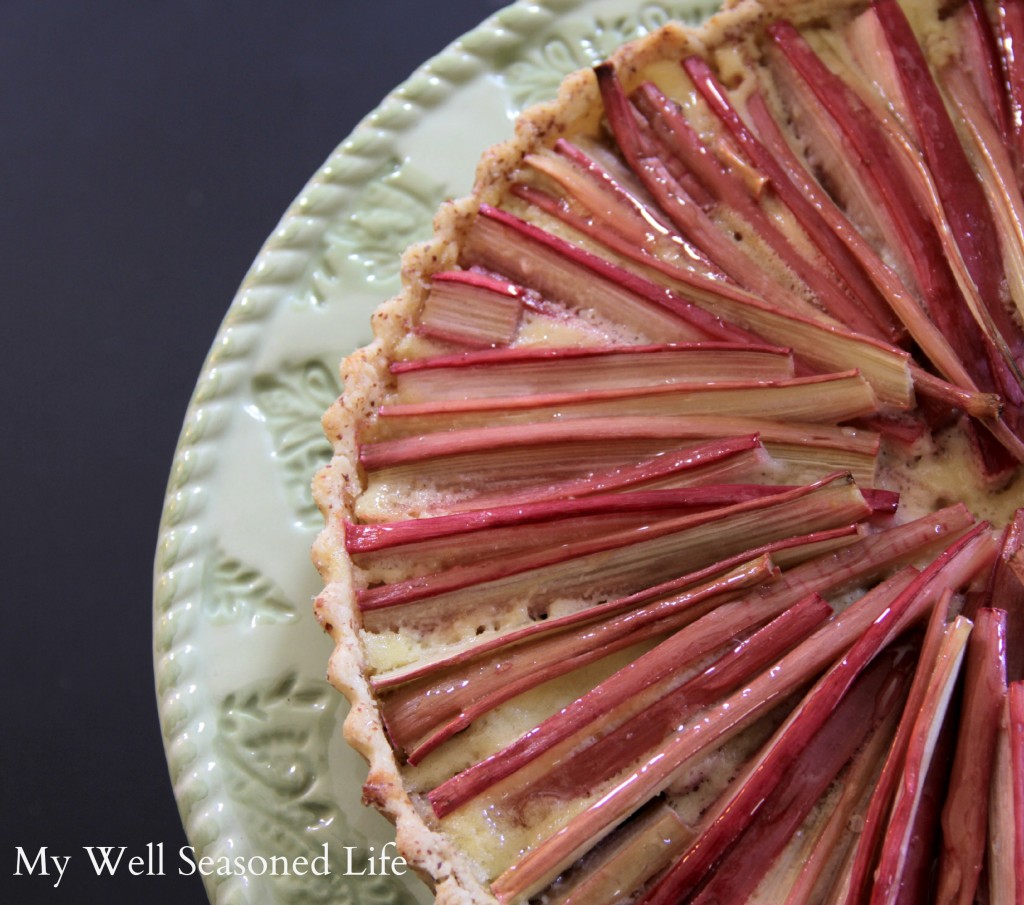 Ingredients
4-6 medium sized rhubarb stalks sliced lengthwise

Almond Crust

1/2 stick unsalted butter cubed
1 teaspoon sugar
pinch of salt
3/4 cup flour
3 tablespoons milk
1 cup or so almond flour for dusting

Lemon Curd

2 eggs
1 egg yolk
1/2 cup sugar
zest of two lemons
1/2 cup lemon juice
Instructions
Almond Tart Crust

Place flour, sugar and salt in food processor, pulse. Add butter and pulse until it looks like coarse corn meal.
Add milk and pulse just until the batter holds together.
Roll out dough using almond flour to dust your surface and dough. Place dough in tart pan, trim edges. Score the bottom of tart dough with fork.
Bake in 375 oven for 15 minutes until is just browns on the edges. Check dough at about 5 minutes and pop any bubbles.

Lemon Curd

Mix all ingredients in a stainless steel bowl.
Place bowl over medium sized sauce pan with an inch of water and cook over double boiler whisking until the mixture thickens and looks like pastry cream.
Add 2 TBS of butter. Whisk. Chill (This can be made ahead of time. It will keep for up to a week.)

Assembly

Spread about 1/2 inch of the lemon curd on the pre-baked tart shell.
Slice rhubarb stalks into 1/4 lengthwise slices then cut rhubarb slices so that they are half the length of the tart circle (about 4 inches)
Place the rhubarb slices on top of the curd so that they fan out and cover the lemon curd. If you have leftover rhubarb place another layer around the tart.
Bake in a 375 oven for about 20-25 minutes until the rhubarb is soft.
https://www.mywellseasonedlife.com/rhubarb-tart/
Mette's Rhubarb Porridge
Clean about 6 rhubarbs and cut them in small pieces.
Boil them in water (only just covering the rhubarb) with vanilla cane until they have dissolved.
Add enough cane sugar until it's sweet but still sour.
To thicken take it off the heat. Dissolve 2 teaspoons of potato starch in a bit of water. and slowly pour into rhubarb.
Leave it on the counter to cool.
To serve: pour whole milk on and a little sugar. Voila.