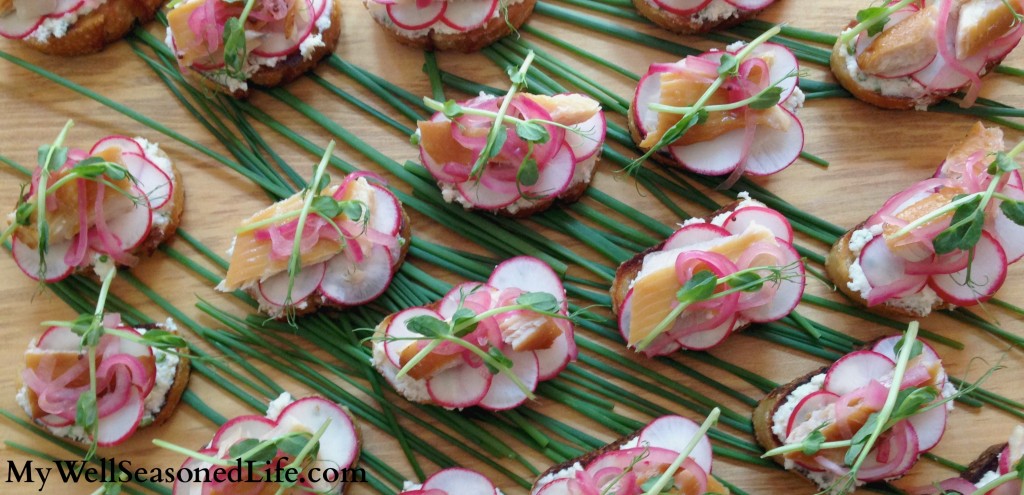 Smoked trout is a great resource for all sorts of dishes. Throw it in a salad and the rich smoky flavor adds a new level. But put it on toast and you have one hell of an appetizer.
The beginning of my new very favorite appetizer was a picture I saw of Gabrielle Hamilton's perfectly grilled cheese sandwich on Food52's site. And the secret of her perfect golden grill? Mayonnaise! Yes, my least favorite of spreads. But who am I to argue with the renown chef of Prune? Not me.
Then I wondered if Ms. Hamilton's technique could be applied to toasts or crostini. Sometimes the toasts are just a bit too crunchy. But a slightly thicker slice of bread grilled with the Hamilton method would provide a softer crunch to the bread.
As my convoluted thought process continued, I began imagining a spread with horseradish, radishes, smoked trout and something sour and sweet on top. And this absolutely easy appetizer was born. The something sour morphed into quick pickled onions, the something sweet—pea sprouts. And that was how these smoked trout toasts were born.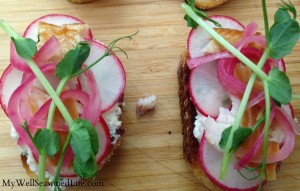 Ingredients
Pickled onions

1 small red onion thinly sliced
½ cup red wine vinegar
1 T sugar
1 t mustard seeds
1 t coriander seeds

Mascarpone Spread

4 oz. mascarpone
Zest and juice of one lemon
3-4 T horseradish
2 T chives finely sliced

Toasts

1 baguette
mayonnaise for spreading on slices
6-8 radishes sliced thin
1 package smoked trout (I got mine at Trader Joe's)
small bunch of pea sprouts.
Instructions
Pickled Onions

Slice onion and place in bowl
Place the remaining ingredients in a sauce pan and bring to boil.
Pour mixture over onions. Let onions and vinegar sit for at least 10 minutes. These onions can be stored in refrigerator for up to 2 weeks.

Mascarpone Spread

In a small bowl place 4 oz. of mascarpone. Add horseradish, lemon zest and mix.
Slowly add lemon juice a bit at a time until you like the taste.
Mix in sliced chives. Salt and pepper to taste.

Toasts

Slice baguette into 15 half-inch slices.
Heat griddle.
Spread bread slices with a smear of mayonnaise on both sides.
Grill bread slices on both sides.
Thinly slice radishes on a mandolin.

Assembly

Spread approximately 2 teaspoons of mascarpone mixture on each slice of toast
Place 4-5 slices of radishes on top of mascarpone.
Break smoke trout into 1 ½ inch pieces and place on top of radishes.
Place two or three strands of pickled onions on top of trout.
Place two pieces of pea sprouts on top of onions.
https://www.mywellseasonedlife.com/smoked-trout-toasts/
If you're looking for more inspiration please check out these Cucumber Dill Canapes from Valentina of Cooking on the Weekends or What a Girl Eats' delightful Salmon Cheese Cake.