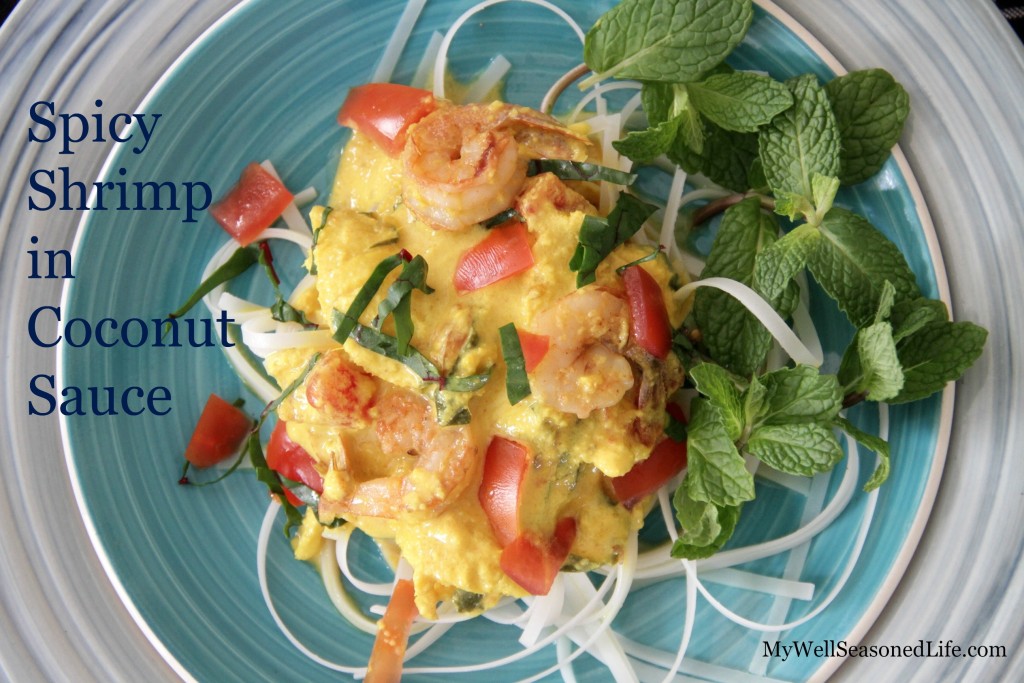 Conjuring up a delicious dinner is tough when you live alone.
The whiny, nasally refrain "Why bother" begins as a mere whisper and gradually grows into an echoing roar in my brain. Why bother, when you have frozen cheese raviolis? Why bother when you'll be just as happy eating a bowl of popcorn while binging on the latest Netflix release? It takes a great deal to strength to resist my abject apathy.
At times like this I conjure up every ounce of motivation to look into my pantry for inspiration. Before me lie the pieces of the puzzle, but which to use? Thyme? Basil? Vanilla? Cumin? That container of cream of tartar that I was looking for last week?
At last my gaze falls upon a jar of turmeric, coriander suddenly appears. A can of coconut milk makes its presence known. I remember I have shrimp in the freezer. Right next to the shrimp are Thai chilies. And before I know it that package of rice noodles I simply had to buy and overlooked for weeks has a new appeal. My gastronomic coma is shattered by the world of spicy possibility. But I'm still felling a bit lazy. Worry not, that's why they invented the blender.
And just like that, spicy shrimp in coconut sauce was on the menu. This is the type of dish that you can throw just about any seafood into and it will be stellar. If you don't have Swiss chard or tomatoes, don't worry it will taste great with or without them I tossed them in because they were hanging around in my refrigerator.
Spicy Shrimp in Coconut Sauce
Ingredients
1 can coconut milk
2 shallots or about 1/2 cup red onion cleaned and coarsely chopped
4 cloves garlic cleaned
1-3 Thai chilies depending on your preference for spiciness
2 inch piece of fresh ginger peeled and coarsely chopped
1 tsp. shrimp paste
1 tsp. turmeric
1/2 tbs. coriander
2 T sugar
1 T ketchup
2-4 T fish sauce
juice of one lemon
4 roma tomatoes chopped in eighths
1/2 bunch swiss chard sliced with stems chopped
1 Lbs. shrimp (any fish can be substituted cut into 2 inch pieces)
1 package of rice noodles
3-4 cups boiling water
Instructions
For rice noodles

Place noodles in a bowl large enough to hold the noodles
Bring water to a boil and pour over noodles

Coconut Sauce

Dump first 12 ingredients into a blender. Pulse and then puree.
Pour mixture into pot or pan large enough to hold liquid. Bring to a boil and then simmer for 7 minutes
Add the tomatoes and swiss chard (if using) Bring liquid to boil
Add shrimp and cook at a simmer 3-5 minutes or until cooked.
Divide noodles into 4 different bowls
Ladle coconut sauce and shrimp over noodles.
https://www.mywellseasonedlife.com/spicy-shrimp-coconut-sauce/