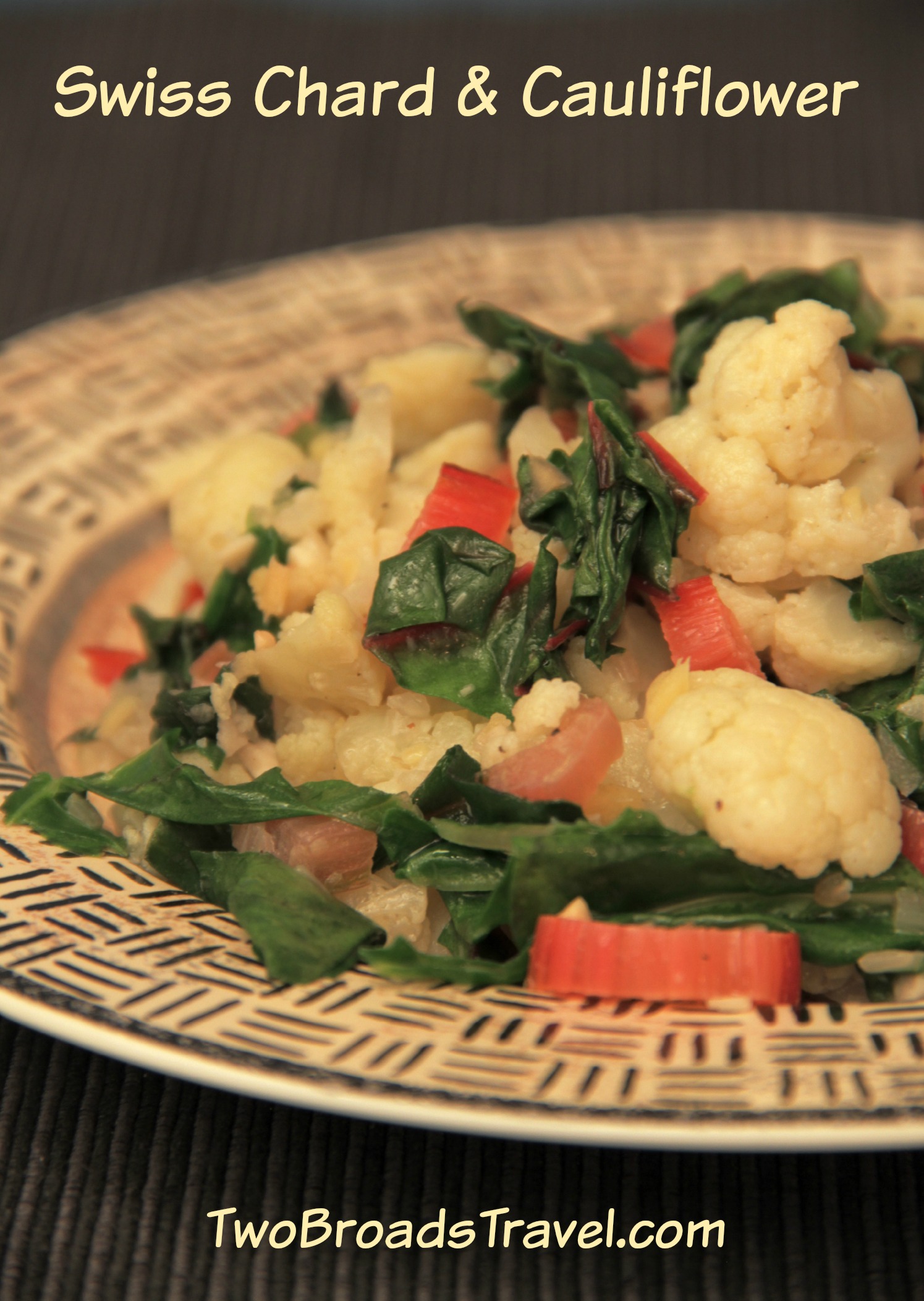 When it comes to greens I do play favorites and mine is Swiss chard…their multicolored leaves and stems makes me smile whenever I see them. (Although, my collard greens recipe is making me a very happy camper of late.) Alas, it is winter and the selection is slim for fun flavor combos…or so I thought.  This spicy Swiss chard and cauliflower combo will compliment fish, fowl or your favorite noodle/rice with a burst of color and taste.
Swiss Chard and Cauliflower
Ingredients
1 8 oz. container Cut 'N Clean rainbow Swiss Chard
1 small head of cauliflower
3 cloves garlic
1-3 Thai chilis stem removed
1 medium yellow onion coarsely chopped
1 inch piece of ginger cleaned and coarsely chopped
1-3 T Thai fish sauce
1 lime juiced
1 T brown sugar
olive oil
Instructions
Clean cauliflower by removing florets from main stem and breaking into bite sized florets. Place in bowl
Add garlic, chilis, onion, ginger to food processor and grind to a paste.
Heat a large sauté pan, add splash of oil, heat, then add spice paste. Cook and stir. Don't brown.
Add cauliflower florets toss until coated. Add enough water to cover cauliflower florets. (I used one cup for my 12" pan.) Cook 3 minutes.
Add fish sauce, lime juice and brown sugar. Cook until dissolved.
Add Swiss chard and toss with mixture. Cook for about 2 minutes.
Taste and adjust seasoning with fish sauce, salt and pepper.
https://www.mywellseasonedlife.com/swiss-chard-and-cauliflower/
Disclosure: Cut 'N Clean Greens sent the Swiss chard for recipe development.