These tried and true lemon bars are a perennial people pleaser. No matter how picky or finicky an eater, lemon bars will always be welcomed. In the past three weeks (as well as the past thirty years) I've brought these lemon bars to a small dinner party, a rather large barbeque, as well as a surprise mother's day breakfast. And I'm happy to report, no leftovers.
I have no idea where I procured the recipe for my lemon bars, but as you can see from the butter stained, weather worn paper it's written on, this recipe has been around for quite some time. I always keep this recipe in the cover page of Baking with Jim Dodge. A book I purchased while living on West 15th Street, NYC. So it's got to be a good 25 years or so. Just think, through all the crazy food fades these tried and true lemon bars still satisfy.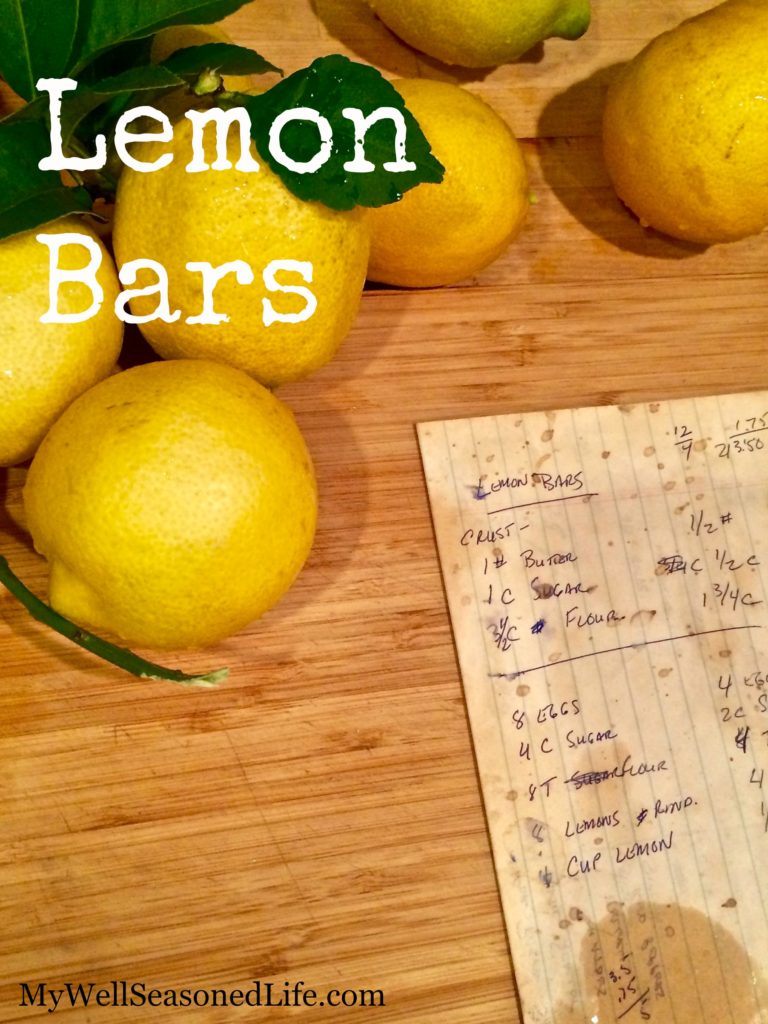 "If it ain't broke don't fix it" are words that I live by. So I really haven't thought of updating this recipe. The crust is buttery and crisp. The lemon filling isn't too sweet. And together they are magical.
Pair these tried and true lemon bars with blueberry compote. How can one go wrong with that combo? But I'm sure some fresh strawberries, blackberries or blueberries will be a welcomed flavor compliment.

Tried and True Lemon Bars
Ingredients
Crust

1/2 pound of butter cut into cubes
1/2 cup sugar
1 3/4 cup flour

Lemon Filling

4 eggs
2 cups sugar
4 T flour
1/2 cup lemon juice
Zest from the lemons
Instructions
Crust

Place sugar and flour in food processor and pulse to mix.
Place cubed butter into blender and blend until the ingredients become a dough. Don't over work
Roll dough between two pieces of parchment paper so it will cover a quarter sheet pan (9 1/2" x 13 1/2") Place dough in sheet pan. Press dough up the edge of the pan and trim excess.
Score the dough with a fork.
Place in refrigerator for 10 minutes.
After the dough has chilled place in a 375 degree oven for 15 - 20 minutes or until crust is golden. You don't want to under bake crust at this point because you want a crisp crust.

Lemon Filling

Add eggs to a medium sized bowl and whip.
Add sugar and flour and whip until blended.
Zest and squeeze lemons into a medium sized bowl.
Pour filling into baked crust
Place in oven and bake for 15 or until set.
https://www.mywellseasonedlife.com/tried-true-lemon-bars/