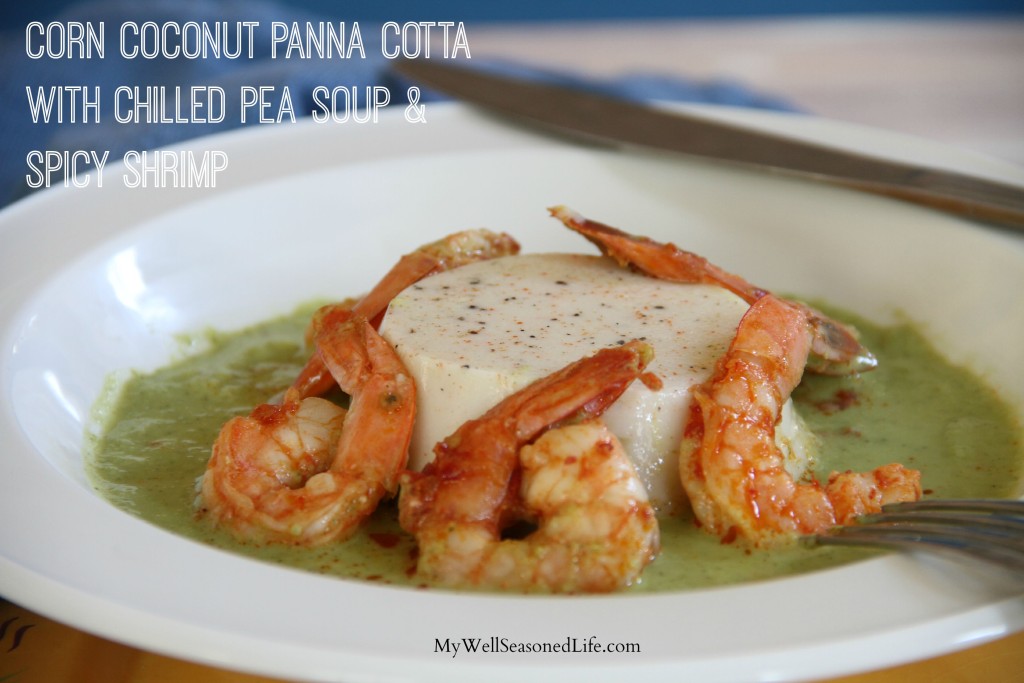 It's hot, make that really, really hot. But no matter the heat, one has to eat. My haunting, lingering question, "But what?" What I wanted: No oven, stove top time under 10 minutes, easy prep 10-15 minutes AND it must taste out of this world. No problem.
One of my favorite cold soups is my chilled pea soup—easy, very little stove time. Good place to start. But the soup alone will not be enough to stave off my hunger.
I head over to Food52 for some inspiration. I fall upon this image.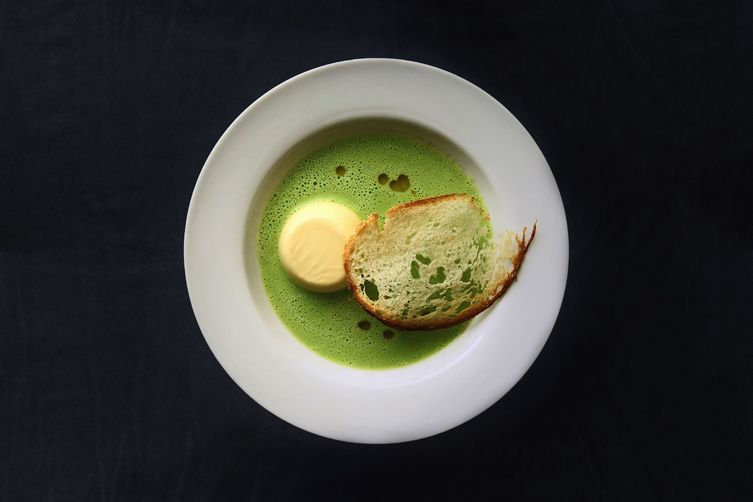 It stopped me in my tracks, just what I was looking for. Chilled pea soup and corn/coconut panna cotta. There was only one problem. I had never made panna cotta before. The adventure was about to begin.
The recipe called for three ingredients: canned corn, coconut milk and gelatin. Canned corn? No way. (Yes, I am that kind of cook.) It would be fresh corn for me.
I failed miserably with my first attempt. The panna cotta did not set. I tasted it. A bit on the sweet side as the author, Coco et Cocoa, warned.
Hmmm.
I recooked the runny mess of my failed corn coconut panna cotta. Added another teaspoon of gelatin, and to counter balance the sweetness, added ½ a Thai chili no seeds finely chopped. It tasted good.
I made my pea soup recipe and set that into chill. And before I knew it I was defrosting shrimp and marinating them in Tuong Ot Toi  (Thai chili garlic sauce). In the back of my mind I knew I was creating a summer standard.
The panna cotta firmed up. The soup was perfectly chilled. And in five minutes the shrimp were done. The flavors are a match made in heaven—sweet, spicy with a bit of zing.
Ingredients
Corn Coconut Panna Cotta

1 ear sweet corn kernels removed
13.5 oz. can of coconut milk
2 t. granulated gelatin
½ Thai chili finely chopped, seeds removed.
Salt and pepper

Chilled Pea Soup

2 t olive oil
1 cloves garlic chopped
1 small red onion
1/2 bag of frozen peas
2 small Persian cucumbers chopped
1/4 cup plain yogurt
1TBS mint
½ -1 cup vegetable or chicken stock (amount will depend on the consistency that you desire)

Spicy Shrimp

½ lbs. medium shrimp, shelled and deveined
1-3 T Thai chili garlic sauce
1 t olive oil
Instructions
Corn Coconut Panna Cotta

Place corn kernels and coconut milk in blender.
Puree until smooth.
Pass corn/coconut mixture through a fine strainer into a non-reactive sauce pan.
Add gelatin, finely chopped Thai chili and stir.
Heat mixture to a simmer. Make sure the gelatin dissolves and there are no lumps.
Taste mixture and adjust seasonings with salt and pepper.
Pour mixture into panna cotta molds.
Chill for at least 3 hours or until set.
Chilled Peas Soup
Add olive oil to hot saute pan
Add onions and garlic. Cook on medium high heat for 3 minutes or until transparent.
Add peas and cucumbers. Cook 2-3 minutes until the peas thaw out.
Add yogurt, mint and cook for another minute.
Add the pea mixture to a blender. Use the stock to help with the blending process.
Blend until smooth.
If you think it's pureed enough, let it go for another minute.
Adjust seasonings with salt and pepper.
Chill for at least three hours. It's best when done over night.

Spicy Shrimp

Add cleaned shrimp into a bowl.
Add chili sauce and toss.
Heat sauté pan
Add olive oil
Add shrimp
Saute until done about 3-5 minutes

Plating

Unmold panna cotta from forms and place in a shallow soup bowl
Pour chilled pea soup.
Arrange shrimp around panna cotta.
https://www.mywellseasonedlife.com/corn-coconut-panna-cotta/